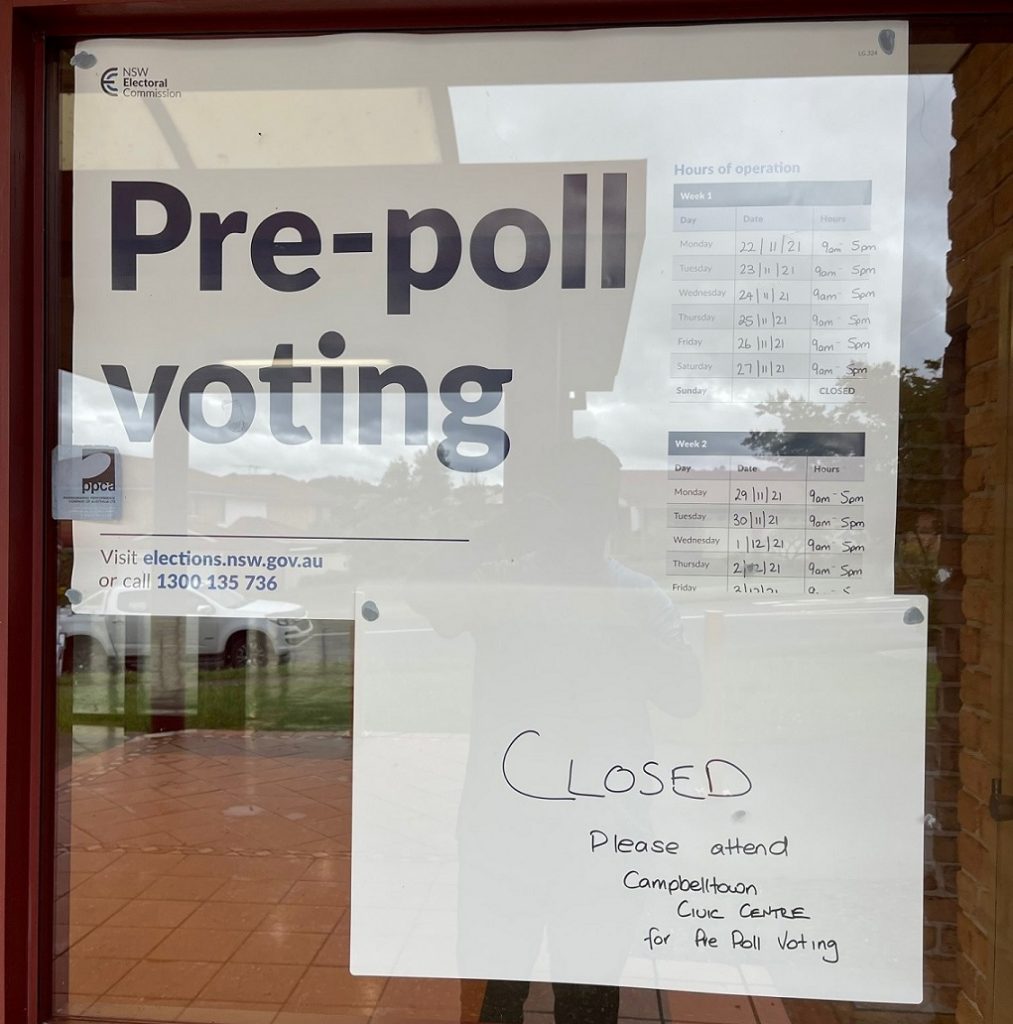 The NSW Electoral Commission has confirmed that the pre-poll centre inside the Glen Alpine community hall was shut down after an unidentified person tested positive for the Covid-19 virus.
"There has been a positive coronavirus case at the Glen Alpine pre-poll venue located in Heritage Way," the Commission said in reply to questions from the South West Voice.
"The health and safety of the public and our staff are our utmost priority and the venue will re-open after cleaning.
"Alternative voting options and venues are available on our website elections.nsw.gov.au."
The sudden closure of the centre around 11.30am was done without any explanation to candidates or their helpers at Glen Alpine. They were simply told to pack up and relocate to the Campbelltown pre-poll in the Queen Street civic centre.
There was immediate speculation the closure may have been Covid-related.
The South West Voice in Macarthur tried unsuccessfully to reach the returning officer for the council election, Ms Kate Harris to discuss the situation.
We emailed her a number of questions, including if Glen Alpine will reopen, and when.
It is believed Anne Parnham, lead candidate for the Campbelltown Independents ticket, was at the Glen Alpine community centre at the time it was closed.
However we have been unable to contact her for comment.
One of the leading candidates in the December 4 election, Councillor Warren Morrison, arrived at the Glen Alpine Community Centre to find that the doors were closed.
A "closed'' sign had been posted on a glass panel at the front of the building, pictured above.
Mr Morrison, the lead candidate for Totally Locally Committed Party, informed the Voice a few minutes later of the sudden closure of the pre-poll place.
"I don't know why it was closed and when I made some enquiries I was told that no further information would be forthcoming,'' he said.
"I was just told to pack up and go down to the pre-poll centre in the Campbelltown civic centre in Queen Street.''
Mr Morrison said he also had to make some phone calls to have one of the two planned bus services for senior citizens from nearby Macarthur Gardens cancelled.
The bus service was due to take Macarthur Gardens residents to the pre-poll centre in Glen Alpine this afternoon. A morning bus service had gone ahead before the closure.
Glen Alpine was one of four pre-poll centres, with one in Minto and another in Ingleburn.