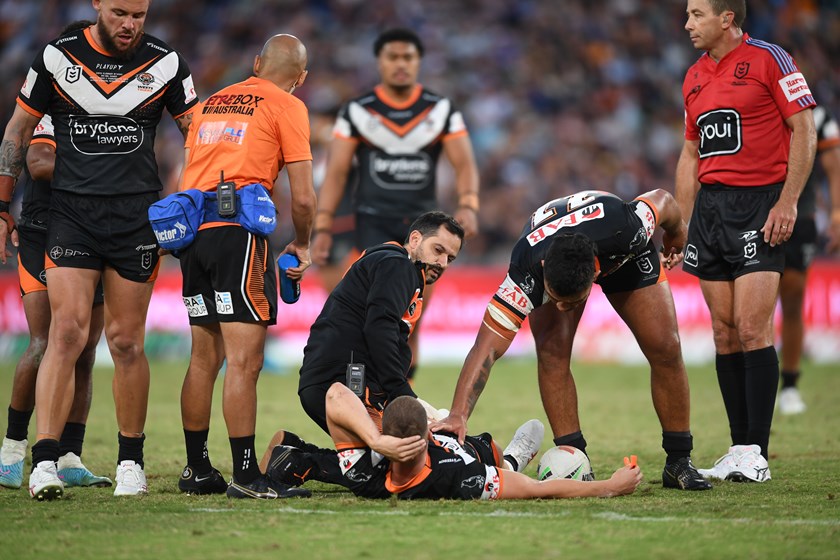 There's been a noticeable shift in attitudes towards the Wests Tigers following their sixth loss against Parramatta on Easter Monday.
The media coverage went from feral a week earlier to laced with empathy after the courageous effort from Wests Tigers in their heart breaking 28-22 defeat to the Eels.
Most agreed that the effort was there and what was lacking was the execution inside the red zone.
And, mercifully, everyone gave Luke Brooks a break.
Well, almost everyone, because there was a still a nark or two on social media suggesting bringing in a new half will do the trick.
It's rubbish of course, because if you watch Brooks during the entire 80 minutes over the six games this season, he has been playing very well.
He makes mistakes, but who doesn't?
And it certainly wasn't his fault the Eels scored three tries off grubber kicks in the first half.
To most observers those tries point to lack of communication in defence, especially on the try line.
Some rugby league pundits blame the Wests Tigers attack for those six losses in a row this season, but they usually have Luke Brooks in their sights.
But let's take a look at the scores in those six losses, and it easy to see that in some of those games, had they conceded two fewer tries, they win the money.
Eels 28-22, Broncos 46-12, Bulldogs 26-22, Storm 24-12, Titans 22-10 and Knights 14-12.
So given that – and a bit of luck – the Wests Tigers would have beaten the Eels, Bulldogs, Titans, Knights and quite possible the Storm.
That would give them four or five wins from six games, but unfortunately they are in 17th place on the ladder with a zero and six win-loss ledger.
It's like the planets have aligned to ensure a side that hasn't made the finals for a decade has no chance for another season.
Wests Tigers will look at the ladder this time next week and see two points next to their name, thanks to them having a bye this weekend.
Then, on Sunday, April 23, they will run on to Campbelltown Stadium to take on Manly in round eight.
A win there, any kind of a win, could turn their season around.
Some of us locals can't wait for that one – c'mon, Wests Tigers!