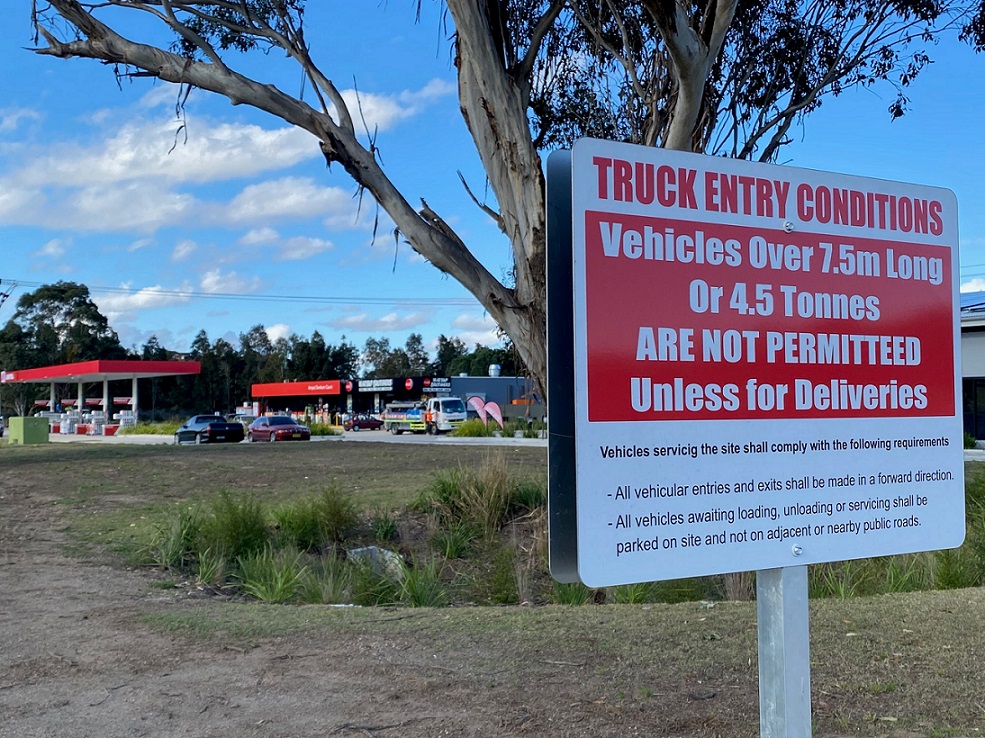 Take a good look at this sign at this service station along Campbelltown Road at Denham Court because it's coming down soon.
The sign was a condition of approval imposed by Campbelltown Council four years ago, which is fair to say would have rejected the application for a service station itself if it could.
But the zoning of the site allows for a service station, so council instead imposed a condition prohibiting access to the service station by trucks longer than 7.5 metres long.
Now the Sydney Western City Planning Panel has overturned that decision and trucks longer than 7.5m will soon be allowed to use the service station, which is located just past the northbound exit from the Hume Highway at Denham Court.
Councillors have been advised that at its meeting of August 16 the Panel did not share council's concerns and had overturned the original decision.
The issue went to the Panel after Campbelltown Council in late 2018 rejected a bid by the owner of the service station to dismiss the prohibition.
In response, the owner lodged an application for the decision to be reviewed by the Panel.
During the review Campbelltown Council continued to oppose any change to the condition imposed regarding long vehicles.
Originally, these were the reasons council said it did not want long vehicles to have access to the service station:
• potential to unnecessarily increase the volume of 'passing by' heavy vehicle traffic on the surrounding local roads
• potential increase in road maintenance costs
• increased noise and air pollution, particularly where heavy vehicles have to make a complete stop at the refuelling point and restart of the engine to leave the site
• potential for traffic congestion on both Campbelltown Road and the Hume Motorway associated with trucks queuing for access to the service station site
• inconsistencies with the objectives of the E4 Environmental Living zone and potential land use conflict with adjoining rural-residential development
• adverse impacts on the aesthetic and scenic values of the locality.
At one meeting, councillors went further, stating this was "a disaster waiting to happen'' if long vehicles were allowed onto the service station site.
The owner will still need to lodge a development application to have the condition removed or council could just modify the existing development consent.
In either case it will be necessary for the application to address road safety concerns, councillors have been told.