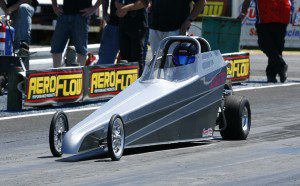 Among the first time winners in round 7 of the ANDRA racing season on the weekend was Natalie Bishop, of Orangeville.
Bishop, who was runner up to her brother in Mildura last month, won her first National event with victory over Jake Berias in the Summit Racing Equipment Junior Dragster final.
She recorded an 8.035 ET on an 8.01 dial in from an 8.704 and 8.65 dial in.
Earlier wins over Brodie Zappia, Garth Spooner and Kelly Donnelly paved the way for Bishop's maiden Christmas Tree.
South Coast Raceway hosted round 7 of ANDRA racing.
Another Macarthur local, Camden's Jason Stares was defeated by another first time winner, Paul Russo, who took the honours in Top Sportsman.
Stares was shooting for his third final title in a row but Russo had other ideas.
Russo had a near perfect .003 reaction at the tree giving him the edge on a 4.912 ET and 4.87 dial in to a 4.733 on the 4.71 dial in.
[social_quote duplicate="no" align="default"]"It's taken a year and a half to get there but we finally got there, we're stoked," Russo said.[/social_quote]
"We raced Jason Stares a couple of weeks ago and lost so it's good to finally get one back on him, thanks Jase.''