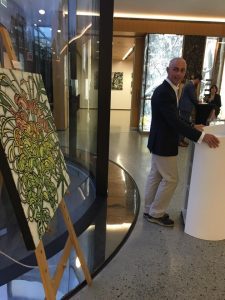 Local newspaper publisher, former Labor candidate for Macarthur and current Wollondilly Shire Councillor Noel Lowry, along with his partner and District Reporter editor Lee Abrahams, were the only other local media people at the Julie Hickson exhibition opening at Australian Botanic Garden's impressive PlantBank building.
The exhibition celebrates 30 years of the wonderful botanic garden that separates Campbelltown from Camden – the "jewel in the crown'' as guest speaker Camden MP Chris Patterson (pictured left) quite rightly called it.
Cr Lowry told us Wollondilly councillors were working well together for the good of the shire.
"Oh, we have a few disagreements now and again, but nothing to stop us enjoying a drink together afterwards,'' he said.
xxxxx
There's plenty of 50 year anniversaries this year, most notably the electrification of the railway line to Campbelltown.
Rotary Club of Campbelltown is going even better, celebrating its 60th anniversary tonight (Monday, November 5).
We received a very kind invitation from current president Murray Kear, in which he informs us that they were expecting a good turnout, including 15 Rotarians from the Rotary Club of Koshigaya, sister city of Campbelltown.
Happy 60th, Rotary.
xxxxx
Readers may think politicians running behind schedule is what really annoys journos, and they could be right.
But after the opposite happened last Wednesday, we're starting to think being late is a blessing in disguise.
We were told that at 10.30am sport minister Stuart Ayres and Cricket NSW CEO Andrew Jones would join Campbelltown mayor George Brticevic for an announcement.
Well, we made an effort, really did, got there at 10.27am, only to be told, sorry, it's already happened.
Now we know how commuters feel if they miss a train because it arrived earlier than it was scheduled.
xxxxx
Attention all gun gift wrappers, the Kids of Macarthur Health Foundation needs you.
The annual gift wrapping stall at Macarthur Square is one of the important fundraisers for Kids of Macarthur.
There's various day, afternoon and evening times available, so if you can volunteer a few hours between December 3 and December 24 visit the website for more information.
xxxxx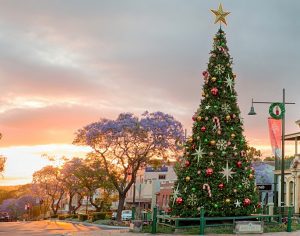 It is the season of festivals, with Fisher's Ghost in Campbelltown in full swing.
At the end of the month neighbours Camden will hold their inaugural Jacaranda Festival, a three day celebration of all things Camden from Friday, November 23 to Sunday, November 25.
There will be live entertainment, market stalls, Christmas celebrations – including a visit from Santa and the lighting of the Christmas tree in Argyle Street – as well as fireworks and the lighting of the jacarandas, naturally.
xxxxx
We saw plenty of familiar faces both in the festival parade and among those who had lined up in Queen Street to watch this year's procession.
The first one was that of our old colleague Jeff McGill, who was busy taking pictures as he has done for a few years now, but waved back when we called out his name.
A lot of people may not realise that Jeff has always dabbled in photography, so it's not just something he picked up since his departure from fulltime work at Fairfax Media.
xxxxx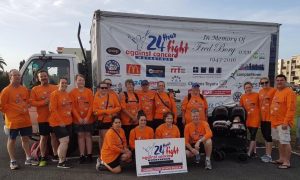 Talking about the parade, we were wondering where 24 Hour Fight Against Cancer chairman Warren Morrison was because he wasn't walking alongside members of the committee.
However a visit to Facebook solved the mystery: Mr Morrison was driving the 24 Hour truck.
He is pictured at right when the team assembled for a photo at Campbelltown Showground before they set off on the 2018 parade.