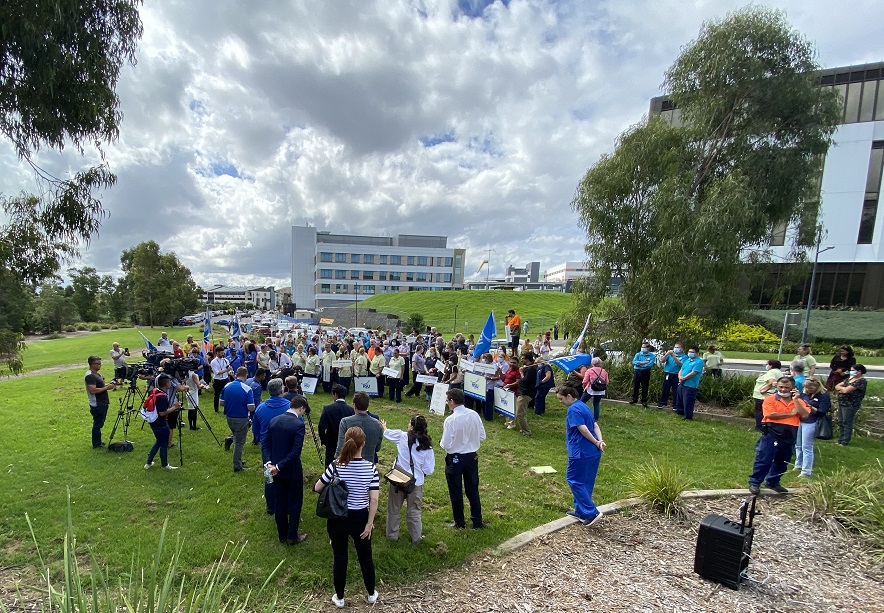 Hundreds of nurses and midwives walked off the job at Liverpool and Campbelltown hospitals yesterday afternoon, frustrated their ongoing calls for safe staffing have been ignored by the NSW government.
Despite intimidation tactics, including threats of disciplinary action, NSW Nurses and Midwives' Association (NSWNMA) members at both South Western Sydney hospitals voted in favour of the strike actions.
Braving wet weather, around 200 Liverpool Hospital branch members walked out for four hours, striking from 3.30pm until 7.30pm.
Ongoing short staffing issues, excessive overtime and a lack of clinical educators to support nurses prompted members of the NSWNMA Macarthur Branch to support a two-hour stop work action at Campbelltown Hospital, from 3.30pm until 5.30pm.
Both Liverpool and Campbelltown hospitals remained open to the public and life-preserving staff were available for the duration of the strike action.
NSWNMA general secretary Brett Holmes said yesterday's snap actions were a sign of the widespread desperate situation nurses and midwives are experiencing.
"Our members never take strike action lightly, in fact, most will have never experienced it in their working lives," said Mr Holmes.
"The examples they have shared of near misses and poor outcomes for patients are truly shocking. They are working beyond what should be expected of any professional nurse or midwife.
"Members have described critical staffing shortages across their emergency departments, intensive care units, mental health units and maternity services.
"These nurses and midwives are at breaking point.
"We need mandated nurse-to-patient ratios in our hospitals, just like they have in Queensland and Victoria. The NSW government's current preferred staffing model is outdated, unsafe and frequently fails to deliver the right number of nurses needed on every shift."
To date, the NSW Government has refused to negotiate with the NSWNMA on introducing nurse-to-patient ratios.