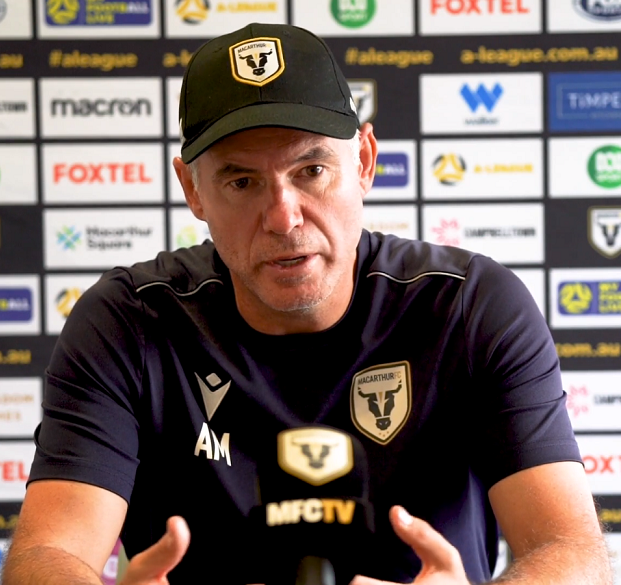 The reign of inaugural Macarthur FC coach Ante Milicic will end on Sunday, when the club play their last A-League game of this season against the Western Sydney Wanderers.
On Thursday, speaking at his last media conference before his departure, Milicic looked and sounded like a man who had gone through the season from hell and couldn't wait till it was over.
Crazy scheduling because of Covid, combined with a spate of injuries and illness meant that the Bulls were never able to field their best possible side for even a single match.
The Bulls are out of the running for the finals after winning just nine games this season.
Five draws and 11 losses means they will finish the season well out of the top six no matter what happens this Sunday at Campbelltown Stadium.
Pride will be the only thing at stake – for both sides.
Milicic said his biggest challenge this week was to make sure the players he sent out against the cross town rivals would be up for the challenge and finished the season with a good performance.
"It has been a difficult season, especially in the last week when we know for the first time we can't make the play offs,'' Milicic said.
"So to get the players up for it is the challenge, as has been the case throughout the season.
"With injuries and sickness, we're still hopeful we can put out a competitive side out on the pitch and put on a good performance in front of our fans,'' he said.
Asked about his departure after Sunday's game, Milicic responded this way: "I am comfortable with my decision, which I made a while ago.
"I'm at a stage of my life where it's clear what my priorities are and where that should be,'' he said.
Milicic said he had challenged his players to play as well as they could against the Wanderers, even though the Bulls were out of finals contention.
"It's games like this when you learn a lot about yourself,'' Milicic said.
The match kicks off at 4.05pm.