Three days after Vow and Declare won the 2019 Melbourne Cup, Geoff Corrigan walked into Squeeze and Grind, his local café in Camden, and was greeted with a standing ovation.
"It was incredible, people were clapping, just unbelievable,'' he tells the South West Voice in Macarthur.
"My morning walks in and around Camden since coming back from Melbourne have been taking three times as long, with so many people stopping to say well done, it's just incredible,'' says the former Camden mayor and member of parliament.
We asked him what it felt like moments after Vow and Declare finished first last Tuesday and he and Sue became owners of a Melbourne Cup winning horse.
"At first it was kind of a numb feeling when he crossed the line after that wonderful ride by the jockey, Craig Williams, then excitement, then it was just a whirlwind,'' he says.
"I've been to a few media conferences in my time as the Member for Camden but when I walked into this one after we won, well, there must have been 50 people in there asking questions.
"Besides the family stuff, for me winning the Melbourne Cup was even more exciting than being elected to parliament.''
Geoff and Sue Corrigan, pictured above, became the majority owners of Vow and Declare a couple of years ago when the chestnut gelding was passed in at auction where he was offered for a reserve price of $60,000.
Knowing he was the half brother of Lycurgus, another horse they had a share in, made up their minds to take the plunge and become the major owners of Vow and Declare.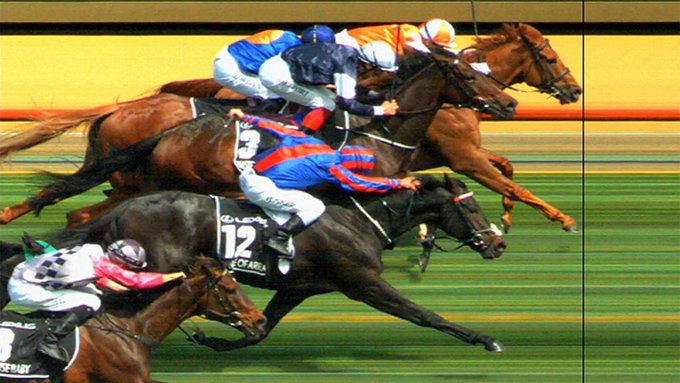 Mr Corrigan says he started to believe Vow and Declare may do something special in the Melbourne Cup after some special performances, including at the Oaks Day, Turnbull Stakes and the Caulfield Cup, where he finished second behind the Japanese horse.
"Another 200 metres and Vow and Declare would have won that,'' he says.
"That's why when we got to the Melbourne Cup I always thought he could win.''
Vow and Declare is the second horse with Camden connections to win the race that stops a nation.
Indeed the 1877 winner, Chester, is buried at Kirkham.
"Yep, I knew about that and as far as we know that's the only two horses with Camden connections that have won the Melbourne Cup,'' says Corrigan.
With four year old Vow and Declare's best years ahead of him, the owners are eyeing a return to Melbourne next year and a tilt at back to back glory.
But for now the gelding is enjoying some well earned rest and recreation at trainer Danny O'Brien's Barwon Heads property.
As for Camden's Geoff and Sue Corrigan, owners of a Melbourne Cup winner, life will go on almost the same as before.
Next week they will take the trophy down to Squeeze and Grind and support the owner, Dean, who is raising funds for the local hospital.
"We want to use the cup for things like that,'' he says.
"People in Camden will be able to see it when we bring it back.''