The mayor of Liverpool, Ned Mannoun, has defended Liverpool Action Group's free use of space in the library for their monthly meetings.
Councillor Mannoun said LAG "does a wonderful job'' for the community, cleaning up large public spaces every year during Clean Up Australia days and on other occasions
"We should be thanking them for what they do for Liverpool and encourage them to continue to do good works,'' the mayor said at council's last meeting in response to an attempt to ask the LAG to pay for the use of space in the city library in George Street.
The Labor Party's Councillor Anne Stanley had sought support for her motion, which not only meant refusing the application for an extension of three years for free use of library space, but also called for a report on why the LAG "haven't been paying''.
But Cr Stanley and Councillor Geoff Shelton were the only two Labor Party councillors in attendance, and Cr Stanley's motion was easily defeated.
Which meant that the council went ahead and approved a three year licence for the LAG to use the City Library Gold Room for their monthly meetings, with normal fees to be waived during this period.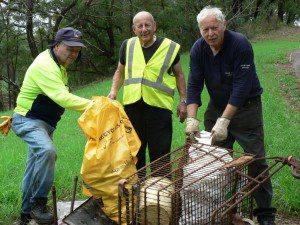 The LAG's Ian Bailey was amused at the fuss his group had caused in the council meeting.
"All I can say is that Council must think it is well and truly up to date with rates, roads and rubbish to table such trivia.
"[former council general manager]Phil Tolhurst first gave us freedom of a room at the library (for four hours a month) and with changes at the top this year it has taken umpteen emails, seven pages of applications and now a Council vote,'' Mr Bailey said.