Max Garcia is a decorated US Marine who now lives in Macarthur with his young family and is pursuing a career as a life coach and mentor. What makes him different from other life coaches or motivational experts is that he brings to the table something few others can: the kind of life and death experience only combat tours to Iraq and Afghanistan can give you.
And leadership: Max Garcia talks like a man who's been there, done that.
He can also talk about the incredible day when he and his unit arrived in the centre of Baghdad for the first time in 2003 to witness the historic moment when Iraqis threw a rope around the statue of the dictator Saddam Hussein and pulled it down.
"It was one of the most significant things I've ever taken part in,'' says Mr Garcia.
"General James Mattis (later US secretary of defence under President Trump for two years) had us in Baghdad so quick, in no time, no sleep, no nothing, we kept moving, so we got to Baghdad too fast.
"My section was the rear security coming in to the city, and we stopped we see this statue ahead.
"First I can hear pop shots, pop, pop, so we are sitting there, we're not moving, and then I see a ladder and a guy climb up the ladder, an Iraqi, tying a rope around the neck of the statue of Saddam.
"So I get out my disposable camera my cousin sent to me in the mail, and there's one shot left, click, and I am thinking, man, this is gonna be history, a historical moment, quick, click, and probably because it was 2003, the last disposable camera ever used.
"Luckily it turned out good, I got a pretty good picture of it,'' he says.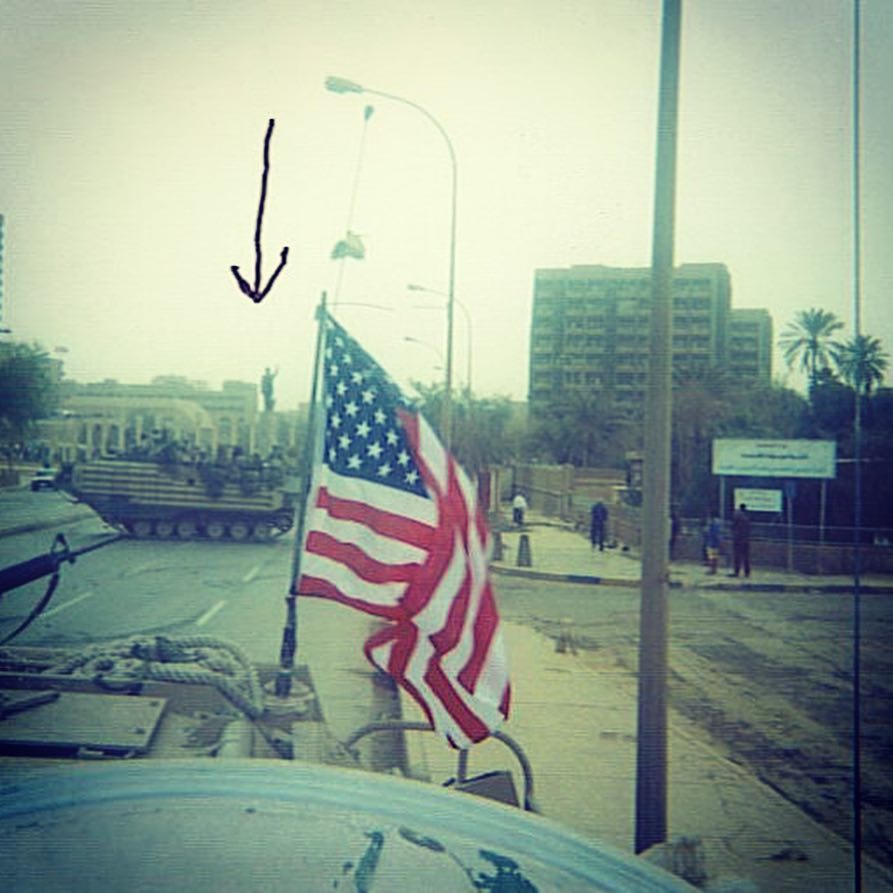 That and much more besides was part of his first combat tour to Iraq.
Once his tour of duty was complete he headed home aboard the USS Cleveland.
He's not sure why but Sydney was one of the stops along the way. He's glad though because that's where he met his wife, Carolyn, whose family lives in the Macarthur region.
The way he remembers it Carolyn was working in the city and wanted to get away from the 10,000 US service members that were in port so she went with friends to the Golden Sheaf Pub in Double Bay to see the band Six and Out, whose line up included cricket star Brett Lee.
"Simultaneously my friends and I (one of which would be killed in action on our next tour to Iraq) jumped in a Silver Cab with a driver named Robert and asked him to take us somewhere we would not see so many of our fellow service members,'' he says.
"Robert happened to be from Baghdad and was beyond excited to drive us because we just liberated his country.
"He took us to his local and something inside made me rush to the bar where I instantly met my future wife.
"We got married three years later and had our daughter three years after that.
"During one of our visits I realized how much I love Sydney and told Carolyn I wanted to move here after the Corps.''
Which is exactly what happened after Sergeant-Major Max Garcia finally decided in 2018 his little girl needed a fulltime father at home.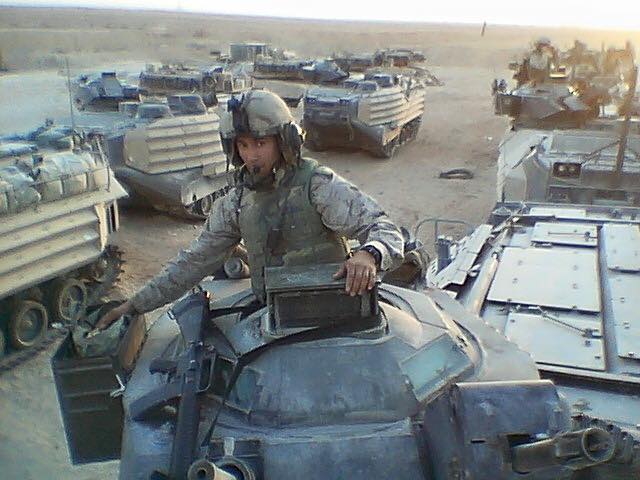 He had joined the Marines in 1994 as an amphibious assault vehicle crewman, becoming a drill instructor in 1999.
In 2003 and 2004 he deployed twice to Iraq with the 3rd Assault Amphibian Battalion and was awarded
the combat action ribbon and a medal for valor, the latter presented to him by General James Mattis himself.
Not bad for a kid born in Mexico who was adopted by an American couple, both of whom had served in the Marines.
"Seeing my father, who had left the Corps even before I was born, the way he interacted with anyone who was a prior Marine, the instant bond, the brotherhood, appealed to me.
"I was a scrawny kid, I was so small, when I first went to enlist in the Marines I didn't weigh enough, they told me I had to gain three pounds to make the grade. I weighed 108 pounds and I needed to be 111 pounds.
"When I told people who asked me that I wanted to be a Marine their jaw dropped.
"But that is why I rose through the ranks; I put my hand up for combat duty, and then when I retired instead of a nine to five job I became a life coach and motivational speaker,'' says Mr Garcia
The first time he started thinking about a post-Marines career as a life coach was while being stationed in Okinawa, Japan.
"I had started working out my exit strategy as soon as I had my little girl, Coralyn, who is now nine years old.
"So I'm thinking – I get captains, colonels, sergeants, come to me for advice on a regular basis on how to lead people and they're impressed – you're a genius, they'd say – but I was just telling them what works for me.''
But he also knew leaving on your own terms was the best way to say goodbye to the Marines.
"The thing is if you hang around too long whether you're a football player or a boxer, anything, you get new orders, 'now you're off to Kansas'. And you go, 'I don't want to go to Kansas'. Then you retire when you're not ready, forced out.''
Once he had made up his mind to leave the Marines and pursue a new career as a life coach, Max Garcia hit the ground running.
In 2018 he became a published author in a motivational book called The Abundance Factor.
His chapter is called The Sergeant Major Max Garcia Two Step, where he articulates the need to write down your ambitions and how to radiate confidence.
About three months ago, Max Garcia, wife Carolyn and daughter Coralyn moved into a lovely new home near Cobbitty where the nearest side street is called Good Luck Circuit.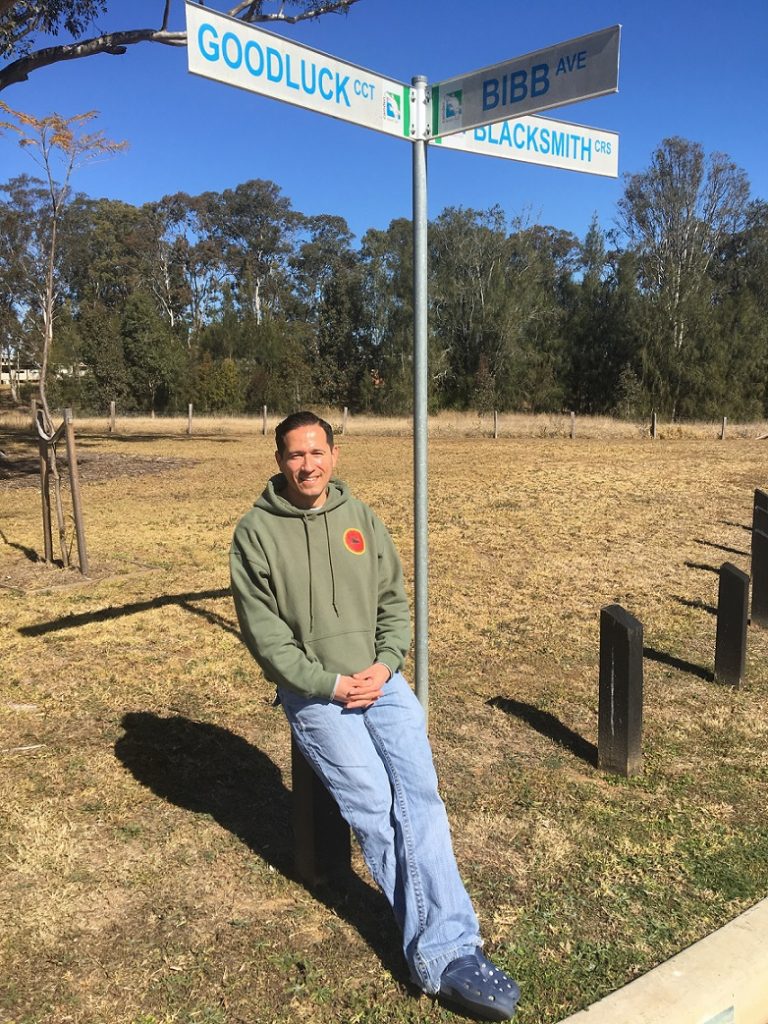 It's only a street sign but Sergeant Major Garcia appreciates it anyway, especially when asked to talk about how close he came to returning from Iraq in a body bag.
"First thing is you know the marine to your left and to your right is depending on you,'' he says when I ask him how you keep it together in a war zone with bullets flying everywhere.
"And when you're in a leadership position, you know those marines you're in charge of are depending on you, and so are their families, so that's how you keep it together.''
There's not that many retired US Marine sergeant majors who are now going around as life coaches, certainly not in the Macarthur region.
Max Garcia says he was determined to make the most out of life after living through the hell of bloody battle in Iraq in 2004.
It was a moment he will never forget because it was destined to shape his life from then on.
"I'll never forget the day; we had been hit bad, my marines and I, for three days in a row, on September 11, 12 and 13,'' he says.
"On the 12th my platoon commander was hit bad, we are trying to bring him back to life, giving him mouth to mouth.
"I knew him well, from the first combat tour, when he almost died, also knew his wife, and could not stop thinking about what's going to happen to his family, how am I going to explain this to them.
"Then the next day we had so many casualties we could not fit them in the helicopter so we had to take some of them off, including a Marine who had a piece of shrapnel hanging out of his mouth, to make room for worse cases.
"We're patching up blood, picking up dead Marines and putting what's left of them in a bag.
"It was those two days right there when I thought, you know what, life is short and we need to make the most of our time here on the planet guilt free, that we should enjoy every good thing life has to offer.
"I decided, why live a mediocre life; I decided I was going to make the most of myself in this lifetime and I knew, I guess subconsciously, I wanted to help other people do the same – because people have this reservation about earning too much money or having too good a life.''
If you're interested in having Max Garcia as guest speaker at your next function or seek any of his other services please visit his website, maxgarcia.biz