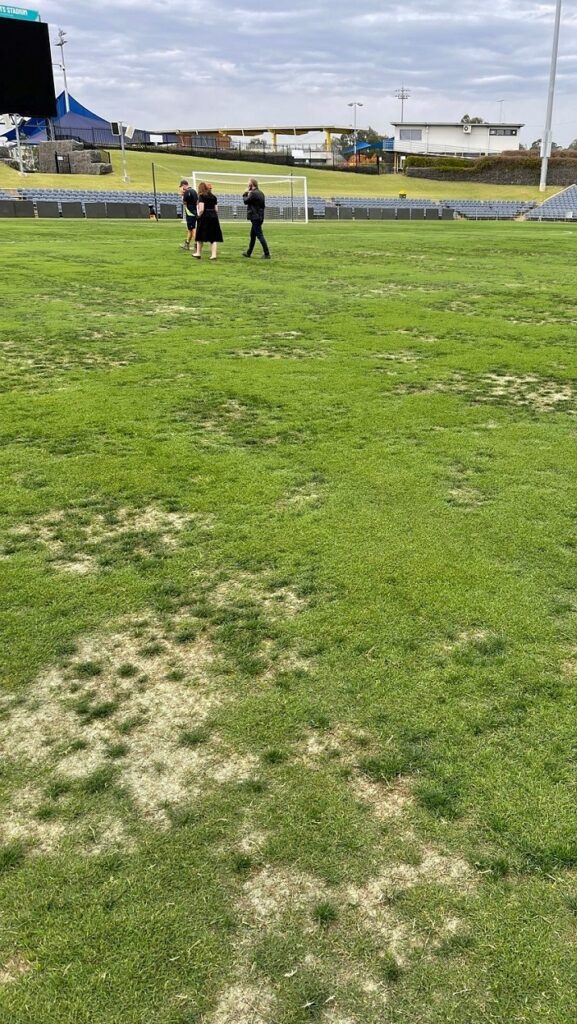 An inspection at 9am tomorrow morning will determine if the playing surface of Campbelltown Stadium will be ready in time to host the next home game of Macarthur FC.
The Bulls head to Parramatta this Saturday to take on the Western Sydney Wanderers in round four of the A-League.
Their round five and six matches are scheduled as home games, with the first against Newcastle Jets on Sunday, December 19.
Then it's the big one, the blockbuster with Sydney FC on Boxing Day.
The club is desperate to be back playing at home by at least the Sydney FC game, if not before then.
But sources close to Macarthur FC say the club has not been told anything by Campbelltown Council about when the pitch will be ready.
"They are really frustrated with the handling of the situation,'' the South West Voice was told this morning.
Things are a lot better on the field so far, with the Bulls now on top of the A-League table after defeating the Central Coast Mariners yesterday at Penrith – another match that should have been played at Campbelltown.
The winning goal game right on halftime when a shot by captain Ulises Davila was deflected into the back of the net.
In the second stanza the Bulls had to withstand attacking raid after attacking raid from the Mariners, who were desperate to return home with at least one point.
The Macarthur FC defence stood firm, although much of the credit for the clean sheet must go to goalkeeper Filip Kurto, who saved several goals and was close to man of the match.
And while it's too early in the season for comparisons, head coach Ante Milicic also deserves some recognition for having his side humming along like a well oiled machine so quickly – and with so many new recruits.
And then there's the massive improvement in first season players like Charles M'mombwa, who is becoming an outstanding midfielder.
Newcomer Craig Noone also had a great game against the Mariners, especially with his dangerous crosses and corner kicks, while Tommy Oar is making a good contribution every week.
It's a long season, but the signs so far from Macarthur FC are very bright.