Anoulack Chanthivong has lambasted the Berejiklian Government over its failure, once again, to allocate funding for lifts at Macquarie Fields station.
"It is appalling there is once again no money for lifts at Macquarie Fields Station in this year's State Budget,'' says the local Labor MP.
"My constituents have been pleading for basic infrastructure and equal access to the transport network for years.
"But the Liberal Government keeps allocating money for upgrades in their own electorates, despite an Auditor-General's report saying there is a greater need for lifts at Macquarie Fields.''
Mr Chanthivong gave the government some credit for spending on education in his Macquarie Fields electorate.
"My campaigns for a new school in Edmondson Park and an upgrade to Passfield Park School have paid off with the Liberal Government finally allocating money in this year's budget after years of inaction.,'' he said.
"I still want answers on exactly what that $3 million at Edmondson Park will get us and when the money needed for construction will be allocated."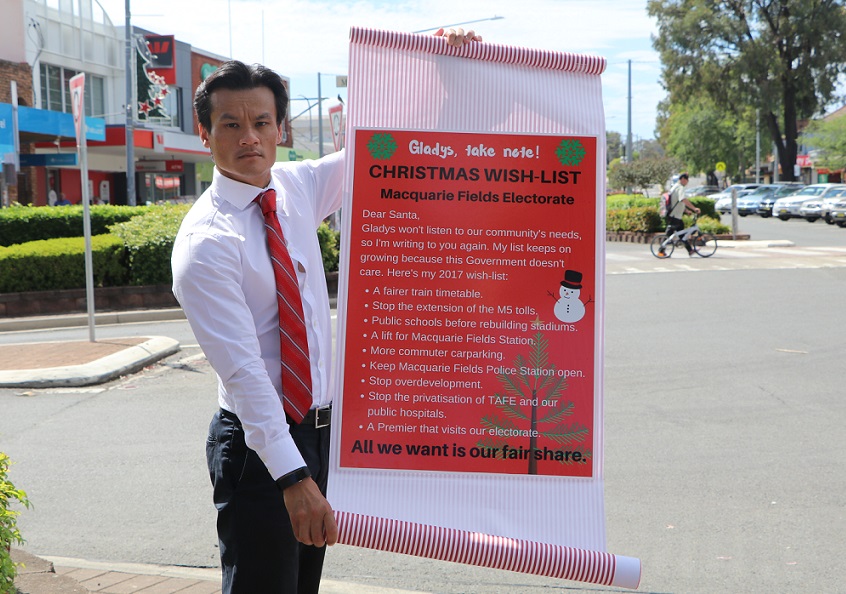 Federal Labor MP, Dr Mike Freelander, added his voice to the concerns the NSW state budget is not outer South Western Sydney friendly.
"Yesterday's state budget demonstrated, yet again, that the Coalition does not understand the needs of our community," Dr Freelander said.
"Just like the Liberal Government in Canberra, the Berejiklian Government is failing to invest in the South Western Sydney region.
"The new toll on the old M5 demonstrates just how out of touch they are.
"Other communities benefit from upgraded stadiums, metro rail links, or dodgy grants, yet people from Macarthur and the South West are slugged with an extortionate new toll on an old road,'' Dr Freelander said.
"Our region is growing exponentially; we need the Governments in Canberra and Macquarie Street to start governing in the interest of all Australians – not just those in Liberal voting electorates.
"With $107 billion of infrastructure spending, one would think that the small amount required to complete the Leppington link to Western Sydney Airport would be a priority. But no, we miss out again.
"It is imperative that residents in our growing suburbs, such as Macarthur Heights, Gregory Hills, Gledswood Hills and Oran Park, are provided with access to basic infrastructure and services such as education and public transport.''