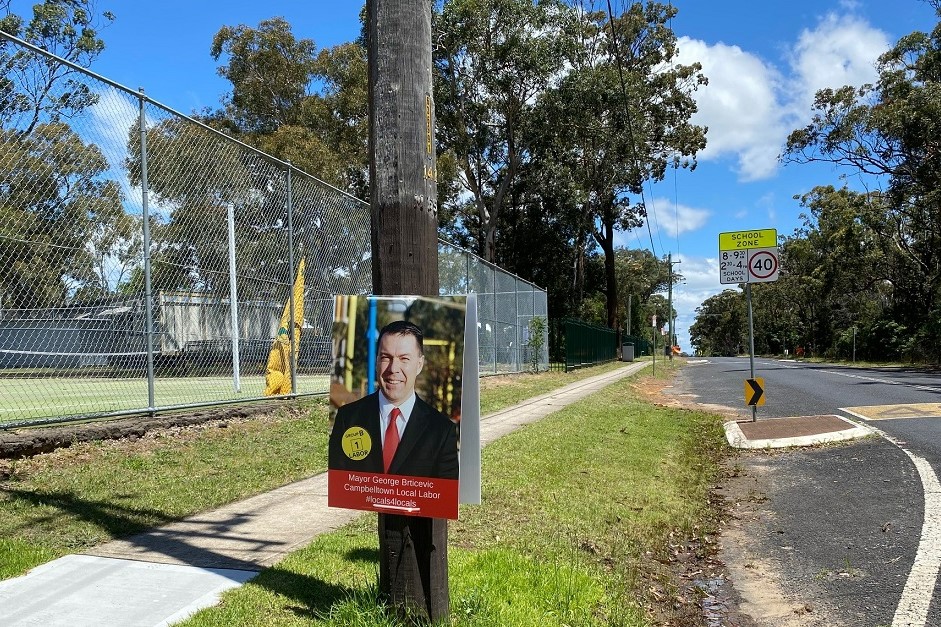 The local council election campaigns are not exactly setting the world on fire, and for that we can thank the lingering impact of the pandemic.
Pre-poll voting starts next Monday, so that should push voters' interest up a notch or two as we count down to the big day on Saturday, December 4.
Here in Campbelltown most of the chatter among candidates is the sudden appearance of corflutes on power poles and tree trunks.
The Labor Party ones, most of which feature the face of the mayor George Brticevic (pictured), have drawn quite a bit of comment in this neck of the woods. Some who have spoken to me said they have found this approach "curious''.
And the campaign itself, which has been conducted mostly on social media, is increasingly featuring an "it's time for a change'' factor.
This has the Labor mob, which has ruled Campbelltown Council for five years on one side, and pretty much everyone else on the other side.
My guess is that we will indeed see new faces on council, but it remains to be seen where the losses and gains will be and indeed how big they will be.
Camden has the easiest equation: Who will replace deputy mayor Rob Mills, who is not running this time.
Apparently he is telling anyone who will listen that he decided to give it away because there's trouble ahead for Camden Council and he doesn't want to be part of it.
In any case, Labor has three in the bag, the Libs four, and veteran Eva Campbell is sure to be returned for an umpteenth term.
That leaves just one spot up for grabs. If Labor can snatch it, they will almost certainly do a power sharing deal with Cr Campbell – the mayoralty being the spoils.
Further south, in Wollondilly, there is a direct election for mayor, with six candidates, including the current incumbent Robert Khan, and Michael Banasik, Matthew Deeth, Ray Law, Matt Gould and Judy Hannan in the mix.
Up north in Liverpool, my tip is for the Labor candidate, Nathan Hagarty, to blitz the field.
Cr Hagarty is in the Craig Knowles mould, which means Liverpool will be in good hands for the next three years.