The kind of gumtrees preferred by local koalas as a food source will be planted this year as part of Planet Ark's annual National Tree Day in Campbelltown.
That's because the trees will be planted in a known koala corridor and habitat, Smiths Creek Reserve, which is located off Georges River Road at Ruse.
The plantings will take place on Sunday, July 26.
This year marks Campbelltown Council's 16th in the campaign.
A report to council last week said planting koala food trees would provide a valuable food source for the local koala population as well as wildlife carers assisting sick and injured koalas.
The tree planting event also forms an important community engagement component of the Improving Urban Koala Habitat Linkages and Community Stewardship grant project currently being conducted in partnership with Greater Sydney Local Land Services (LLS), the report said.
The provision of native plants for the project will cost council about $1,000.  Site preparation and mulching will cost around $7,500.
In addition, in commemoration of School's Tree Day, council will offer schools within the LGA up to 50 native plants and shrubs each, to plant on the school grounds (or at a nominated location).
The provision of these plants will cost council another $7,000 for plants plus administration costs.
National Tree Day and School's Tree Day combine to make Australia's largest community tree planting and nature care event, the report to council said.
The event provides local residents, schools and businesses an opportunity to participate in improving the Macarthur region's natural environment.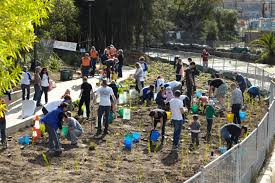 Planet Ark Environmental Foundation is an Australian not-for-profit organisation established to help people; governments and business reduce their impact on the environment.
Each year Planet Ark conducts the National Tree Day and School's Tree Day campaign, which encourages local residents and students to do something positive for the environment and to reconnect with nature by planting trees in their local area.
National Tree Day was initiated in 1996 and since then more than 3 million people have planted 21 million trees and plants and it's still growing.
In 2014, close to 300,000 people and over 3,000 schools took part in planting 1.4 million native trees, grasses, shrubs and edible plants, contributing an estimated $5.6m in volunteer labour to vegetation enhancement and environmental stewardship.