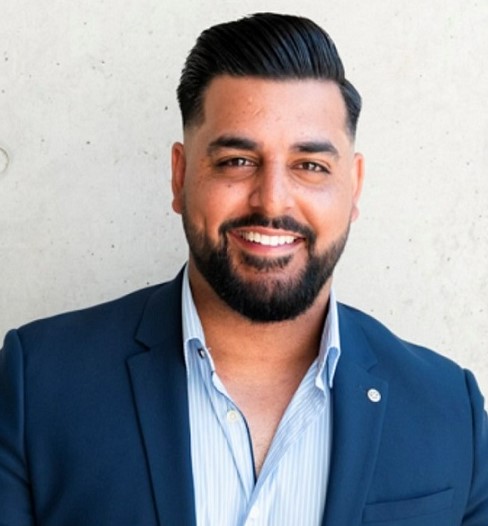 You know that the future of Campbelltown will be in good hands when a young community leader like Josh Cotter is prepared to take on the responsibility of being a councillor.
Cotter, who is about to turn 28, has taken over the mantle from veteran Community First Team councillor Paul Lake, who is retiring at this election.
Now the father of one, the Glen Alpine resident born and bred in Campbelltown is determined to continue Cr Lake's substantial legacy from 18 years of council service.
"Paul's done so many wonderful things for the area,'' says Cotter.
"And he's made some hard decisions that not everyone liked, which is the thing I liked about Paul; he always stuck with something, no matter how challenging it was.
"If it was the best for the community, he would put his foot down and get it done,'' says Cotter.
"And that's something I would like to continue, have that no fuss attitude where if something's good for the community and it needs to be done, put my foot down and stand up for our people.
"Having something like the Justice Precinct, something Paul Lake proposed, things like that are going to bring people to the area, like setting up offices, government departments, different businesses, the Western Sydney University setting up a campus in the heart of our city.
"These are the things we need to inject our money into.
"It's important that we make sure that we stand up, and me as a councillor stand up and say this is what we need, this is what we should be fighting for, for our city, in whatever challenges are coming up in the next few years.
"We want to make sure that Campbelltown is 100 percent up there with the other areas in everything.''
Josh Cotter ran on the Community First Team ticket with Paul Lake in 2016, and again at a by-election in 2017.
He's hoping that it's third time lucky on Saturday, December 4, the date of the 2021 council election.
In the past five years he's kept an eye on council knowing his turn would come.
"There's some great people on council and they've done some great work, over a number of years,'' he says.
"But I think we're at a point now in our city where we deserve change, we deserve a fresh set of eyes, a fresh lense on things.
"And that does not mean it has to be me, I'm not saying that, but if we can bring that balance to council, those fresh sets of eyes, new ideas and people that represent different parts of our community, I think that's going to be a huge benefit to Campbelltown.
"I feel that when a major party's in control, and that's what it is at present, what it has been for the past five years, that is the only set of eyes that gets over the line.''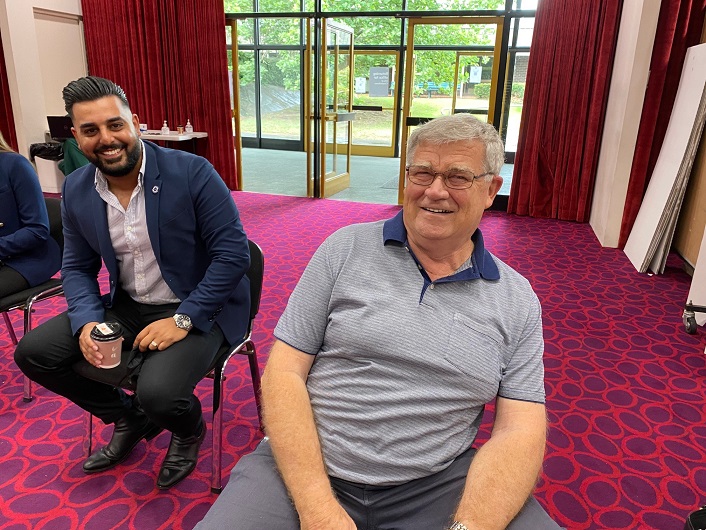 Josh Cotter says it is vitally important for the future of Campbelltown that there are more independents on council – people who just want to serve the people not a political party.
"It all starts with bringing back that balance on council – that's what independents bring,'' he says.
One of the things Paul Lake had a reputation for was his forensic approach to spending ratepayers' money – indeed at times he was a one man expenditure review committee.
And Josh Cotter promises that he will also be keeping an eye out on any waste or wrong spending priorities.
"We must have accountability everywhere, where our people's money goes to,'' he says.
"We're all living in this area, and we all want to know where our money's going.
"And I think it's important when we do spend big money on capital works projects, we keep the community informed about it.
"Don't just put up a photo of it saying, oh, we've done this,'' Cotter says.
"Yes, OK, that's great, but what's the background to it, what was spent where and how, what's the benefit and what's it going to cost to run it.
"People are happy to put their money into something, provided they're given all the right information, and it's accountable and transparent at every stage of the process.''
Josh Cotter has not just been a youth leader for most of his life, developing the leadership skills of young people in the area has been his career to date.
So while he may be relatively young, he has a pretty good grasp of what makes the world go around.
And he's full of the kind of ideas that could make Campbelltown great – a vastly different aspiration to the current mediocrity merry-go-round.
"I think that we really need to look at our community engagement, and I mean genuine engagement, not just ticking boxes,'' says Cotter.
"So it's about hearing the voices of all of our community, not just those who want to be engaged, those who attend every event, those who are always commenting.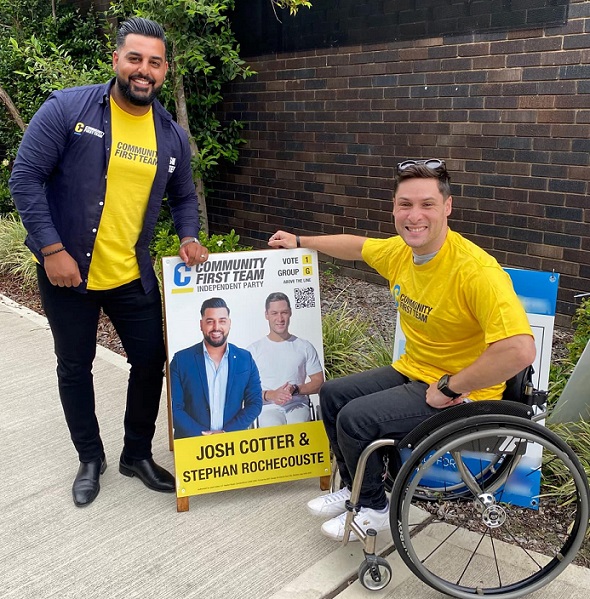 "I am talking about the people who are a little bit disengaged; sometimes those people, those families, those young people, have the best ideas, but they just don't know how to project their voice and bring those ideas that can better our city,'' says Cotter.
Pre-poll voting started this Monday, and as far as Josh Cotter, (pictured at Campbelltown) is concerned, bring on the election.
He says that campaigning is hard work, but he feels excited because he has assembled a great Community First Team for this election.
"I am excited – we're right in the middle of the campaign, and while we're running it side by side with our charity work with Rise Above we're in there having a go for Campbelltown,'' he says.
"Our slogan is Time for a Change, time to put our community first, and I feel that with everything else, including Covid, that it is time for a change, time to bring that balance back to council in Campbelltown.
"We have a team that represents every corner of Campbelltown – that was a big strategic focus of mine, making sure that we were going to those different community groups, those different cultural groups, those different sporting clubs, so they could all be represented.
"To me that was the most important thing, that we had a team that represented all of Campbelltown.
"And not just a team that could stand there in a suit and tie and say, yeah I want to be a local representative.
"Sometimes there is a time for suit and tie and then there's a time to roll up the sleeves and get in there and help our community; be there hand in hand, whatever it is, leave the politics aside and get out there and help people doing things that need to be done.''