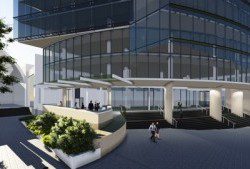 This has been a triumphant week for Liverpool and the leadership team of Ned Mannoun and his Liberal Party colleagues on the council.
A university campus, finally, announced on Monday by the premier, Mike Baird.
That's a biggie, a game changer. Not as big as the Badgerys Creek airport, but it's up there near the top.
A less well known game changer is the decision by the local law firm Brydens to invest $20 million in a brand new seven storey tower adjacent to Westfield, which will be their head office when it's completed in 2017.
But not just any old seven storey building. The proposal that's gone to the council is for a brilliant looking building that's the latest in design and energy efficiency. One of its features is an incredible roof garden. It was designed by a local firm, Mosca Pserras Architects.
This tower could well be a catalyst for a string of beautiful office towers across the Liverpool CBD.
Brydens chief Lee Hagipantelis told me that Mayor Ned Mannoun's leadership had played a major role in the decision to go ahead and invest in Liverpool.
Mr Hagipantelis said he felt confident about Liverpool's future and that with Ned Mannoun at the helm it was definitely heading in the right direction.
Work will start on Brydens' later this year; the UWS Liverpool campus will be up and running in the middle of next year.
The airport at Badgerys Creek will also be a step closer to reality, so there is a lot happening in and around Liverpool and the south west.
Personally, I had got sick of myself always writing about the potential of Liverpool and when would it ever be unlocked.
So it is wonderful to finally be writing about Liverpool actually realising its potential.
But there are risks in everything and this success is no exception.
The Liverpool hierarchy now need to be on the lookout for any signs of hubris and complacency.
This almost always follows success, because we're all human and therefore vulnerable to the praise and flattery that come when we are doing well.
Hubris means that you've come to the point where you think that you can do no wrong – that you are in fact infallible.
And if you have made the fatal mistake of surrounding yourself with yes men, well, success can unravel quite quickly.
Down is the only way from that point onwards.
I have seen it happen a few times, both with individuals in high positions and organisations such as local councils.
Some leaders are lucky enough to have around them the odd person who is not afraid to tell the boss they are stuffing up. This is what happened to Tony Abbott in his so called near death experience earlier this year.
I don't know if the PM realises it, but they did him a favour, because he looks like a much better leader these days. Not out of the woods yet, but he looks like he is trying to listen more and to be less arrogant.
If they want to avoid hubris, the leaders of Liverpool also need to keep reminding themselves that their work never ends.
When they are gone and another mob comes into power, they too will continue to try to make the place better.
Improvement of a city or a town is not a job that gets done in a day.
Rome wasn't built in a day.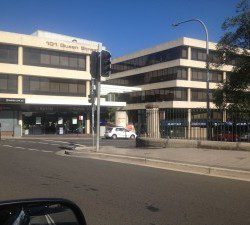 When I walk or drive around Campbelltown, near the main drag, Queen Street, or up at the fabulous Macarthur Square, what strikes me is that Campbelltown's skyline has not changed for almost 20 years.
There's the odd apartment tower dotted here and there, but other than that it's the same as it ever was.
What happened?
Liverpool's growth now was what Campbelltown was experiencing in the 1990s.
And after a while the feeling around the place, at the leadership level, was that the project had been completed; that Campbelltown was no longer a work in progress.
Worse was the idea that the joint was almost perfect now, that it could not be improved, propagated by ignorant people and swallowed by ones even more ignorant.
We have a university campus, a great art gallery, a good footy stadium, we have it all, what else do we need: so went the chorus from people who ran Campbelltown in those days.
They had forgotten, though, one thing.
Rome wasn't built in a day.
Now, 10 years on, another council is starting to again work hard for Campbelltown, for a bigger stadium, for more transport infrastructure, for a lot more things, to keep improving the joint.
Are you listening, Liverpool.