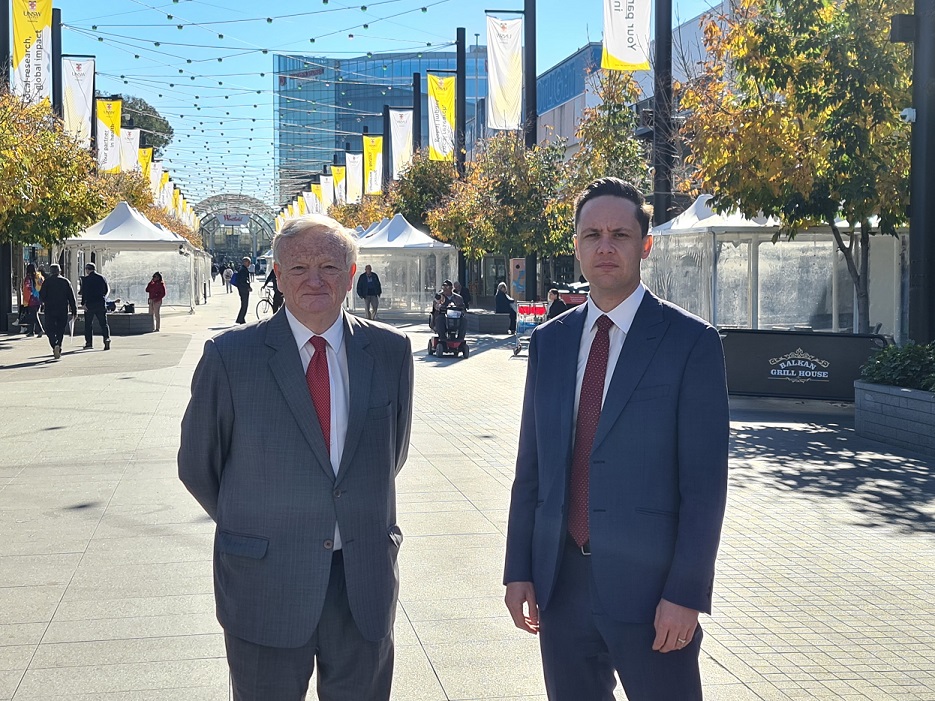 Liverpool mayoral candidate, Councillor, Nathan Hagarty, has enlisted MP Paul Lynch in his campaign for Sate Government Covid-19 assistance for local businesses.
Cr Hagarty says that despite being hit hard by several Covid-19 outbreaks, Liverpool firms do not have access to the $3,000 and $5,000 grants available to businesses on the Northern Beaches.
Earlier this year, the Labor councillor moved a motion on council calling on the State Government to extend its business resilience grants to small businesses in Liverpool.
Cr Hagarty has now launched an ePetition with the NSW Parliament and Liverpool Labor MP Paul Lynch as sponsor.
"Unfortunately, Liverpool has suffered several Covid outbreaks and near misses,'' says Cr Hagarty, who is pictured above right with Mr Lynch.
"This has had a huge impact on local businesses and our visitor economy.
"But unlike the Northern Beaches, the State Government hasn't been forthcoming with adequate support and assistance.
"If it's good enough for the Northern Beaches, it's good enough for Liverpool,'' Cr Hagarty said.
Should the petition receive 20,000 signatures it will trigger a debate on the issue in State Parliament.
"The State Government seems focused on looking after Northern Sydney and shows scant regard for Liverpool," says Mr Lynch.
"It's pretty outrageous to favour the well-off Northern Beaches and ignore the South West.
"I congratulate Councillor Hagarty on this initiative."