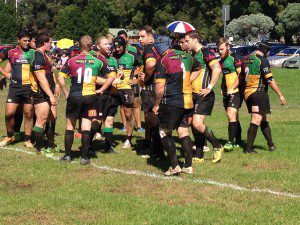 The Harlequins first grade team were outclassed in a tough away game against the competition leaders Avondale on the weekend.
The first half saw the home side blitz the Quins, posting five unanswered tries.
Campbelltown, although totally outclassed on the day, put in the effort in the second half and were rewarded with three tries through centre Fale Seuili and hardworking forwards Matt Ravlich.
Their best on the day was flanker Tony Campbell.
But these tries came interspersed among five more from the competition leaders who went on to wrap up the match and the premiership points. The final score was 64 – 19.
Harlequins will host University at home next Friday and Saturday in a makeup game from earlier in the season. Third grade and Colts will play on Friday night at 7pm and 8.10pm respectively while the second grade (11am) and first grade (1pm) matches will be played on Saturday at the Campbelltown Showground.
♦ In second grade at Avondale the game was a lot closer than the 30 – 21 Harlequins loss would suggest.
A couple of unlucky calls and some unforced errors saw Avondale snatch the game in the second half.
For the Quins tries went to Jeremiah Leato and Stephen Cook.
Man of the match was newcomer David Teheia.
♦ Harlequins third grade had a strong game with their 22-15 win moving them to fourth on the premiership ladder.
Tries went to man of the match Ifata Leuka and John Ryan (2).
John Soloi kicked a conversion and a penalty while Lucas Macdonald kicked one conversion to make up the third grade score.
♦ In women's rugby the Harlequins ladies, playing away, were beaten 45-0 by a committed Sydney University on Saturday.
As they come to the end of their season the girls can look forward to next year having played some enterprising football this year in their first season in the Sydney competition.
They play their last competition game next week away to Parramatta B.
They will then play an exhibition match against Victoria's Western Districts Women's rugby team as part of the Harlequins Ladies Day on Saturday, August 22.
Any ladies interested in playing next year please call 0404 829 356 or email campbelltownharlequins@gmail.com
♦ The Harlequins Colts played a second make up game against University and were unlucky to lose by just three points, 25-22.
Four tries and a loss by less than 7 gave them two bonus points.
Try scorers were Devlin, Taula, Riggot Varu, Roid Mapa and Ratu Uluivuya. Laei Matagia kicked one conversion.