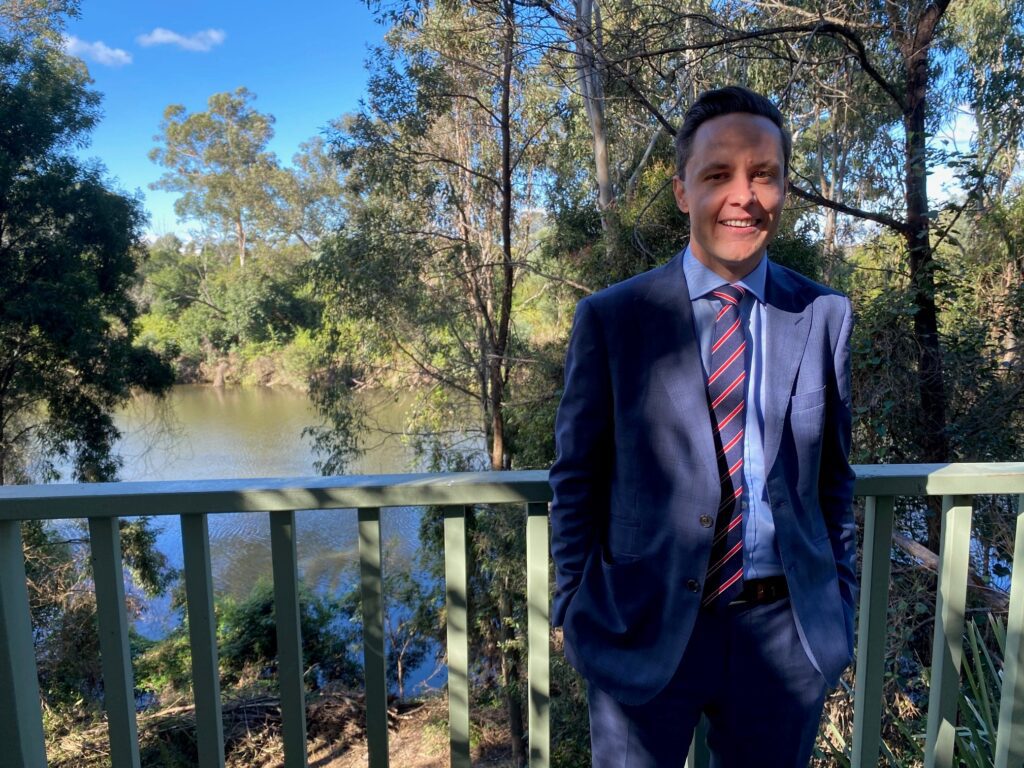 Nathan Hagarty, the man who will most likely become the next mayor of Liverpool, believes local councils could teach state and federal parliaments a thing or two about how politics should work.
"It's a cliché, but it's the closest level of government to the people, and that's reflected in the way council works and when you compare it to state and federal,'' he tells the South West Voice during an interview at Casula Powerhouse.
"State and federal politicians tend to be very partisan, and have to toe the party line,'' says the 40 year old councillor and Labor candidate for the top job in Liverpool.
"At council we quite often split in terms of party and at the end of the day we're all about what's good for Liverpool; what we disagree over is how to do it.
"Often, I'll have a chat to independents and Liberals, and compromise and sort something out because we both see something as a problem and we both want to fix it.
"In that regard, it's closer to the sentiment of the general population – and the way politics should work.
"We shouldn't just go, blue team versus red team.
"It should be about what's the best way to solve a problem for the community and get it done.''
Hagarty, who was first elected to council in 2016, was a a political later bloomer.
Coming up to the 2013 election, and knowing Labor was going to be hammered, he decided to get involved.
"I was not a big fan of Tony Abbott; I thought he was going to do damage to the country, so I stood on a booth all day handing out how to vote leaflets for Chris Hayes in Fowler,'' he says.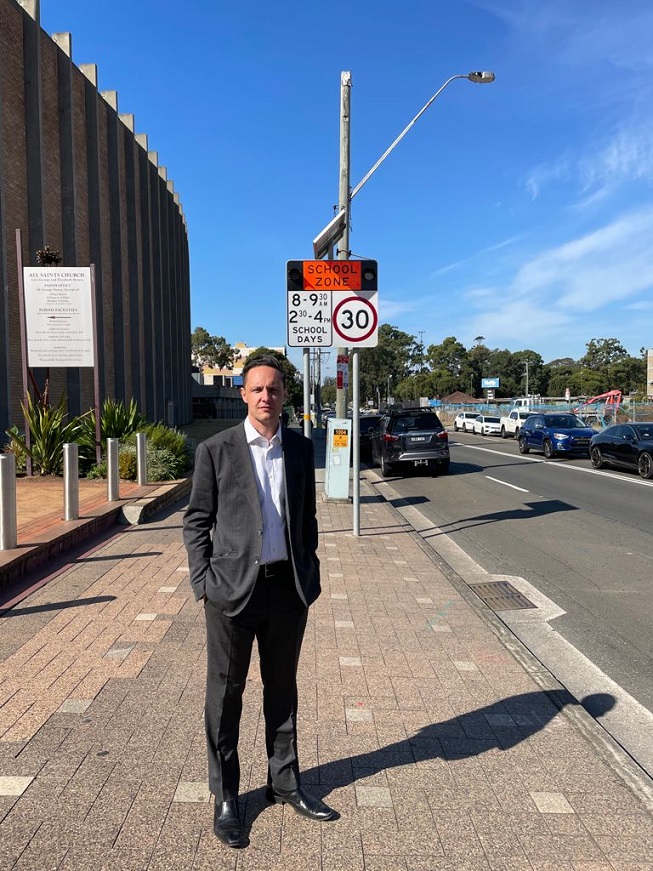 He started attending Labor branch meetings, got involved in another couple election campaigns and the die was cast for Nathan Hagarty the politician.
"I was going to live here, raise my kids in the area, and so wanted to have a say, an influence, over the community I brought my kids up in,'' he says.
He was elected to Liverpool Council in 2016 for a four year term, which ended up being five years courtesy of the Covid-19 pandemic.
When Nathan Hagarty was born 40 years ago his parents lived in Housing Commission flat in Cartwright.
Four or five years later they moved to a house in Bonnyrigg, where he lived until he started his own family.
But he hasn't gone far from the old neighbourhood: he now lives at Green Valley.
Young Nathan attended Bonnyrigg Public and then Bonnyrigg High, before heading off to the University of Western Sydney at Macarthur to study commerce and international studies.
"I can look back on it and the world was a lot smaller – the world was supposed to be your neighbourhood, your auntie and your uncle and your cousins,'' he says.
Growing up, Nathan and his mate might jump on a train and go to the City, where his police officer father was stationed, but other than that Liverpool was his main domain.
"Every Thursday night we came into Westfields, it was late night shopping and that was the universe for everyone, you had cinemas, Timezone,'' he recalls.
"The way I remembere it, you could do everything you wanted to do in Liverpool.''
At university he decided commerce was not for him, so he gave it up and concentrated on international studies with an eye on a public service job in foreign affairs or immigration.
For two semesters he studied Mandarin and had booked to go to China for 12 months to teach English.
"The plan was to come back and try to find a job in the public service, but it was either SARS or bird flu that came along at the time,'' says Hagarty.
"Instead I got a job in Colonial First State and never looked back really.''
He worked in financial services for 13 years, before moving across to the IT space.
He was in IT project management for more than three years, but after sleeping under his desk one night while trying to finish some work, Hagarty decided he needed a change.
"I thought, it's not worth it, and the good thing about IT project management is you can do it in any industry, it's very transferrable, so I got a job at Western Sydney University.
"It was life changing because I could drop the kids off at school, go to work, come home in a reasonable hour, spend time with the kids, the wife.
"I got a bit of family time back.''
He had got married when he was 25, to a woman he met when they were both students at Bonnyrigg High School. They have two children, a daughter, 14, and a son, 12.
There has been one more career turn: a little over a year after being elected to council, Labor colleague Anne Stanley, the federal member for Werriwa, needed a chief of staff and called Hagarty.
"There are some synergies there between the two of us, the position made a lot of sense, so I've been there almost four years now,'' he says.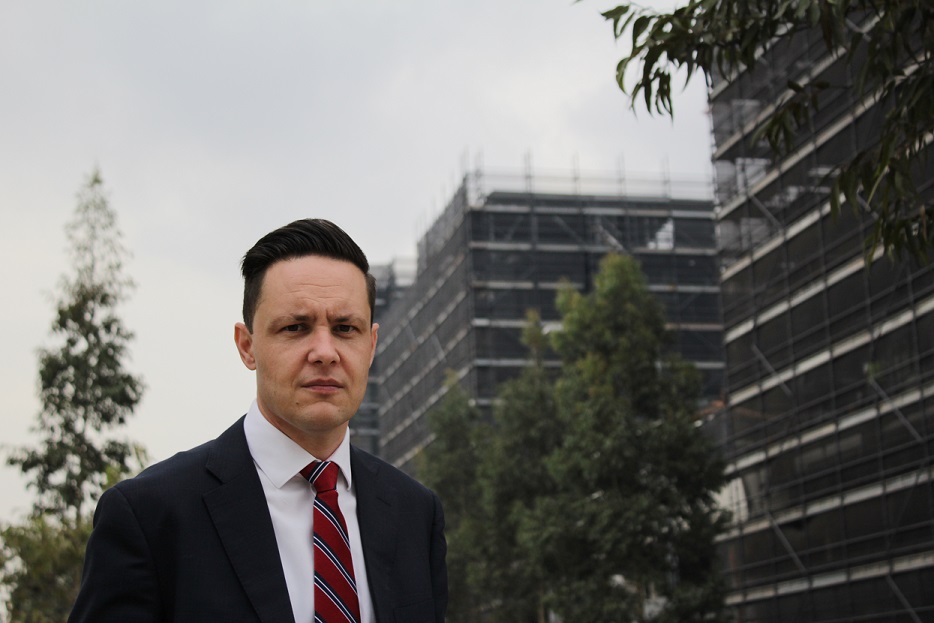 Some people might think that Nathan Hagarty will cruise to Liverpool's top job come September 4.
But the man himself isn't taking anything for granted and on just about every issue we dissect he qualifies his answer with: "If I am lucky enough to become mayor…"
But whether it's the parking deficit in the CBD, traffic congestion along the old Hume Highway or overdevelopment in the suburbs, it's clear he would be a mayor who has his finger on the pulse of what makes Liverpool tick – and what doesn't.
"The CBD has improved over the past five years but there's still plenty of work to be done, and parking is the big one,'' says Cr Hagarty.
"The solution may be in technology and doing things a bit smarter, while the Northumberland Street car park is one of the targets for renewal.
"But it's close to 50 years old, so if we don't do something we may have to slap a heritage order on it.''
As for the traffic nightmare that is trying to get in and out of the CBD, he knows the biggest constraints are having Georges River on one side and the Hume Highway on the other.
"You can't move the river, while the Hume is a state road and the council have and will continue to lobby the state government to do something there,'' he says.
"The long term plan is to move it further west, around the back of Brickmakers Creek, that's a massive job, but in the interim we'll keep pushing for traffic improvements at the Hume Highway and Hoxton Park Road intersection.
"I saw some traffic modelling that said that intersection and the one with Cumberland Highway that said as much traffic goes through there as does on the Harbour Bridge,'' he says.
Away from the CBD, Hagarty believes overdevelopment and a shortage of facilities such as parks are the big challenges in the suburbs of Liverpool.
"You can never have enough facilities like parks, because it is not just kids using them; adults, the elderly used them and of course they are also used as outdoor gyms,'' he says.
"New houses have to go somewhere and the most logical place is on the fringe, which is north west and south west of the city.
"The state government is happy to collect stamp duty and contributions, but it doesn't seem to be coming back in the form of upgrades to roads or new schools.
"Austral is the perfect example: there's 17,000 dwellings going in there next three years, and there's one primary school, and no public high school.
"I have Austral parents coming to me, saying, my kid is in year six, I don't know where they're going next year.
"You have 15th Avenue, which is an unsealed, one lane council road that should be at least three lanes each way and the state government has given us some money to do the design work, but we need the money for the upgrade.
"So, yes, it's certainly council's job to fight for its residents and to advocate on their behalf.
"If I am lucky enough to become mayor, I would be happy to sit down and have a mature adult conversation with whoever is in charge of us getting a fair share.''