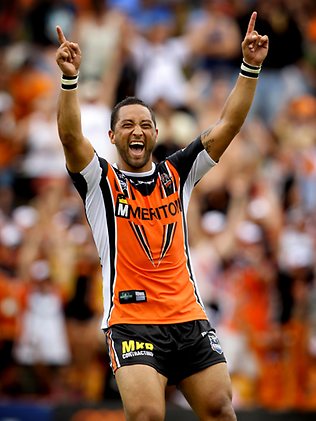 The greatest game of all – that's some boast, but if it's only a reference to the 80 minutes on the field we'd have no trouble agreeing.
Mainly it's because of the players, without a doubt the biggest asset of rugby league.
Never mind the dumb antics of some of them after dark or on the weekends; on the field there is pure genius at work.
Think of Andrew Johns, with seconds left to play, going to the short side and finding Darren Albert, who scored quite possibly the greatest try in history.
Indeed the feats of some of the great halves in the modern era, from Sterling to Wally to Cronk to our Benji Marshall, pictured, have caused more head shaking from the punters than when we flattened the pandemic curve.
Funny thing though about league is that the brilliance on the field has rarely been matched off it by the players, administrators or indeed commentators.
Mediocrity has ruled the roost in this space.
Even the current ruler of the game, Peter V'landys, freely acknowledged as a genius administrator, has a flaw: he pronounces the game "rugba league''.
But we've all had a good laugh about that so let's leave him alone and get back to the serious warts of the greatest game of all.
So there is this tendency in rugby league to be so down to earth in the way things are done that results in some things starting to look like "protected species''.
We are not saying there is an official policy but over time fans start to think, why isn't something done about this or that.
So here's our Top 5 rugba league perceived "protected species'' in the modern era:
Number 1. The Sydney Roosters insisting their salary cap is not over the limit.
Number 2. The greatest referee of all time, Cameron Smith, a bloke who apparently can also play a bit.
Number 3. Latrell Mitchel, who should have been sent off for retaliating against Josh Reynolds.
Number 4. The former bus driver from Concord Ivan Cleary, who can do no wrong in 2020, including pointing to the scoreboard when a fan had a go at him in the game against Wests Tigers.
Number 5. Rugby league commentators who only talk about half a dozen players all season. Boring as bat droppings, boys, plus there's more than 400 first graders out there playing the greatest game of all.