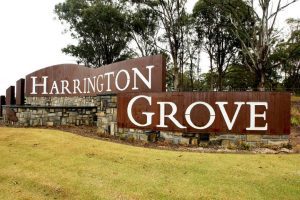 The grand opening of Harrington Grove's third and final neighbourhood centre will take place this Saturday, May 26.
Michelia Club represents the ultimate in class and quality that has become synonymous with Harrington Grove.
It contains a full-sized tennis court, swimming pool, barbecue facilities, children's playground, picnic areas, gazebo, communal seating areas and a gymnasium.
Complemented by the Harrington Grove Country Club and Magnolia Club, Michelia Club has been developed for Harrington Grove's discerning residents.
Harrington Grove has long enjoyed a prestigious reputation throughout the area, and this latest addition will continue the tradition.
"When people go out looking for a home site or a home, they are looking for the type of lifestyle that they will be afforded, far beyond the bricks and mortar. We have always been driven by the most discerning residents and are always seeking to do what is best for the neighbourhood as well as the greater Camden area," says Terry Goldacre, managing director of Harrington Estates.
With just a handful of home sites remaining in Harrington Grove, there are limited opportunities to secure a piece of that lifestyle.
"From the moment we sold the first home site in 2008, we have remained very committed to the vision of developing resort-style facilities and a community that Camden can be proud of," says Mr Goldacre.
Saturday's event will be attended by Camden MP Chris Patterson, members of the trustee, council members, residents and other special guests.
xxxxx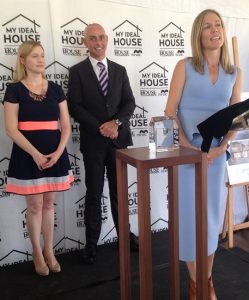 On Friday, June 1, Lisa Green, editor in chief of Australian House & Garden magazine, will join other guests for the "reveal'' of My Ideal House at  Gledswood Hills next Friday, June 1.
The invitation only event will be the culmination of almost two years of work, starting with a design competition won by the young Sydney architect Madeleine Blanchfield, who will also be attending the unveiling. Ms Blanchfield is pictured at left after the announcement she had won the design competition. Behind her are Camden mayor Lara Symkowian and local MP Chris Patterson.
The design competition, which included $25,000 in prizemoney, was an initiative of Australian House & Garden magazine and residential property developer Mirvac, who built the winning design house at their Crest estate, part of Gledswood Hills, just off Raby Road.
The house will eventually be auctioned and the proceeds will go to charity.