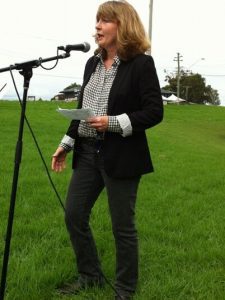 The Scenic Hills Association has lodged a formal complaint with the General Manager of Campbelltown City Council over its management of the public hearing into the Catholic Metropolitan Cemeteries Trust proposal to rezone historic land at Varroville in the Scenic Hills for a 136,000 grave cemetery.
The association claims local residents were locked out and had to rely on a substandard sound system to hear the proceedings.
Even those registered to speak against the proposal were unable to gain entry until called in to give their presentations.
The NSW Government's Sydney West Joint Regional Planning Panel (JRPP), which took the proposal out of council's hands after council rejected it in March 2014, had said it would make the decision at the meeting after hearing views from the public – but didn't.
Eighteen people had registered to speak against the cemetery, including three Labor councillors, and people flocked to hear the outcome.
"It was a shambles,'' says association convenor Jacqui Kirkby.
"If this cemetery proposal now gets approved it will have no legitimacy in the eyes of the community.''
The meeting was held in the council chamber on the third floor of the civic centre because the much larger ground floor hall was being used for pre-polling.
Ms Kirkby said the hearing could have been held in one of the many other halls in the area.
Location was not the only problem, though.
Ms Kirkby says security officers locked the doors to the downstairs lobby and were only letting in registered speakers due to the limited seating in the third floor chamber.
"But they had no list of registered speakers,'' she said.
"Instead the Trust, its supporter base – funeral directors, church officer holders and land developers – were allowed in and packed out the chamber.''
Only four of the Trust supporters allowed entry were listed as speakers.
Ms Kirkby says the local community, including the elderly and disabled, the Scenic Hills Association and most of the 18 speakers against the cemetery were kept downstairs listening to the meeting on barely audible speakers.
All others, including the owners of Varro Ville Homestead, had to sit in the ante-chamber.
"One registered speaker left before being called,'' Ms Kirkby said.
[social_quote duplicate="no" align="default"]"When the sound system collapsed no one outside the main chamber could hear what was being said.[/social_quote]
"People who had been waiting for three hours to hear a decision had no choice but to leave.''
Independent council candidate Nea Makowski said: "it was a disgrace that there was seating in the chamber for the proponents but not the true locals''.