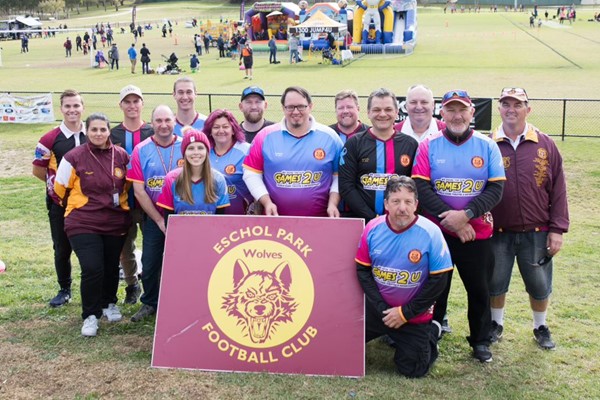 In 40 years, Eschol Park Football Club has grown to become Campbelltown's biggest home for soccer players young, old, boys and girls.
The Wolves tribe consists of more than 800 registered players taking part in winter competitions and over 1,000 in summer.
But these remarkable numbers don't tell the full story about this great community football club with a big heart.
In 2011, when two of its members were diagnosed with cancer, the club supported them by holding a charity day.
That was how the Eschol Park Pink Blue Charity Day got started 11 years ago.
"The event was simple, consisting of the sale of pink socks and a cake stall to raise funds for research and as a show of support to our members who were suffering the effects of this insidious disease,'' says club vice president Peter Anjos.
"In January 2013 one of our members succumbed to breast cancer.
"Since that time the club has been committed to growing the event,'' he said.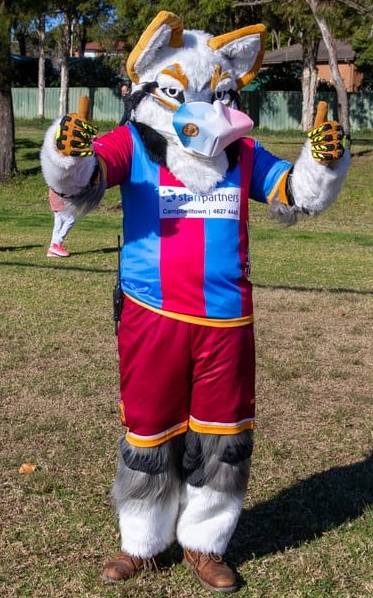 Eschol Park Pink Blue Day has now become the biggest charity drive by any member club of the Macarthur Football Association.
The pandemic did not do it any favours, and it was cancelled in 2020.
But it returned in a modified form a year later and $20,000 was raised for breast and prostate cancer research in 2021.
Now that normality is slowly returning to life, the club is determined that it's Pink Blue Day in 2022 will be bigger and better than ever.
"This year is also our club's 40th anniversary and we are aiming to raise at least $25,000,'' says Mr Anjos.
"The bulk of the money is raised through the sale of the pink and blue jerseys, wrist bands for rides, cake stall sales, and stall holders,'' he said.
The 2022 Pink Blue Day will be held at the Eschol Park Sports Complex on Saturday, June 25, between 9am and 9pm.
It literally will have something for everyone, including fireworks at 9pm, so it's a day not to be missed.
The 5th Royal Army Engineering Regiment will be there, as will the SES and a Fire and Rescue truck and crew and others.
Amusements will include include teacup rides for the little ones, climbing wall, bucking bull, dodgem cars, face painting and hair braiding.
The 2022 Pink Blue Day raffle has some great prizes so make sure to buy tickets when you get there.
Prizes include a Playstation 5 pack donated by Sony, three signed Macarthur Bulls jerseys, two golf bags and much more.
The Cancer Council will have a stall, as will Hyper Foods, Bells Ice Cream, OMG Decadent Donuts, Gladys' Succulents and the Macarthur FC Bulls – among others.
Mr Anjos said the club was grateful to their major sponsors, Kearns Shopping Centre and Byles Anjos Lawyers, as well as other local companies which are supporting the 2022 Pink Blue Day such as Wakeling Automotive and Pete's Perfection Painting.
SNAPSHOT
WHAT Eschol Park Football Club annual Pink Blue Day
WHEN Saturday, June 25, 9am – 9pm.
WHERE Eschol Park Sports Complex