This morning's meet the Hume electorate candidates breakfast at Club Menangle attracted a substantial audience.
In stark contrast to the dullness of the general election campaign, this was at times a feisty forum that included a mildly annoying heckler of sitting member Angus Taylor.
As a result, those who attended this morning will have left with a much better idea of the choice they will make on May 21.
Unfortunately, two candidates on the ballot paper could not make it to Menangle: Karen Stewart of The Greens and Labor's man in Hume, Greg Baines.
Those that made it were Angus Taylor, who has held the seat since 2013, Gary Trevor Dollin of the UAP, Rebecca Thompson from Pauline Hanson's One Nation, independent Sheneli Meneripitiyage Dona, Ross Edward Seller from the Shooters, Fishers and Farmers Party, Joaquim Eduardo De Lima of the Liberal Democratic Party and another independent, Penny Ackery.
The "conductor'' of the Greater Narellan chamber of commerce forum was Jim Marsden, who obviously needs no introduction.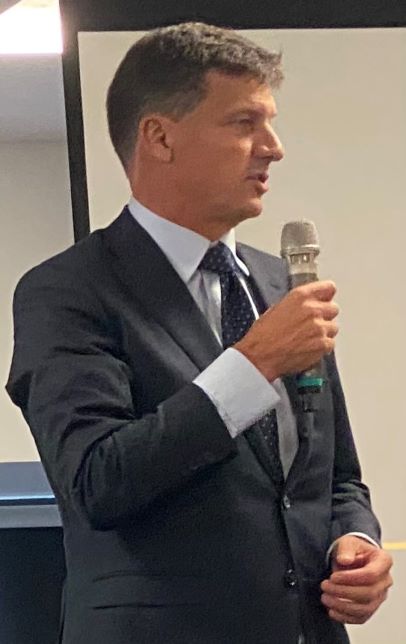 It's worth noting Mr Marsden not only did a very good job overall but also dealt with the heckler on a couple of occasions by employing a combination of wit and humour.
Each candidate was given four minutes to make their opening statements before answering questions from Mr Marsden and people in the audience.
Main issues raised included integrity and accountability in government by Ms Ackery and restoring a moral compass to politics by Sheneli Meneripitiyage Dona, who declared: "I will be everything Angus Taylor is not''.
The Pauline Hanson candidate, Ms Rebecca Thompson, said there was an urgent need to reform family law and to make children the main focus in legal proceedings.
Ms Thompson also said her party wanted an immediate end to vaccine mandates.
In a sad moment, Mr Taylor, pictured at right, revealed that yesterday he and his three brothers had laid to rest their father.
And while the energy minister in the Morrison Government maintained his composure during the Q&A session, it was obvious when he spoke to the South West Voice afterwards that the loss of his father was still very much in his thoughts.
And finally, one of the questions from the floor revealed that former member for Macarthur Michael Baume was in the audience.
The 91 year old former advisor to then prime Minister John Howard was still as sharp as a tack. He lives in Camden.