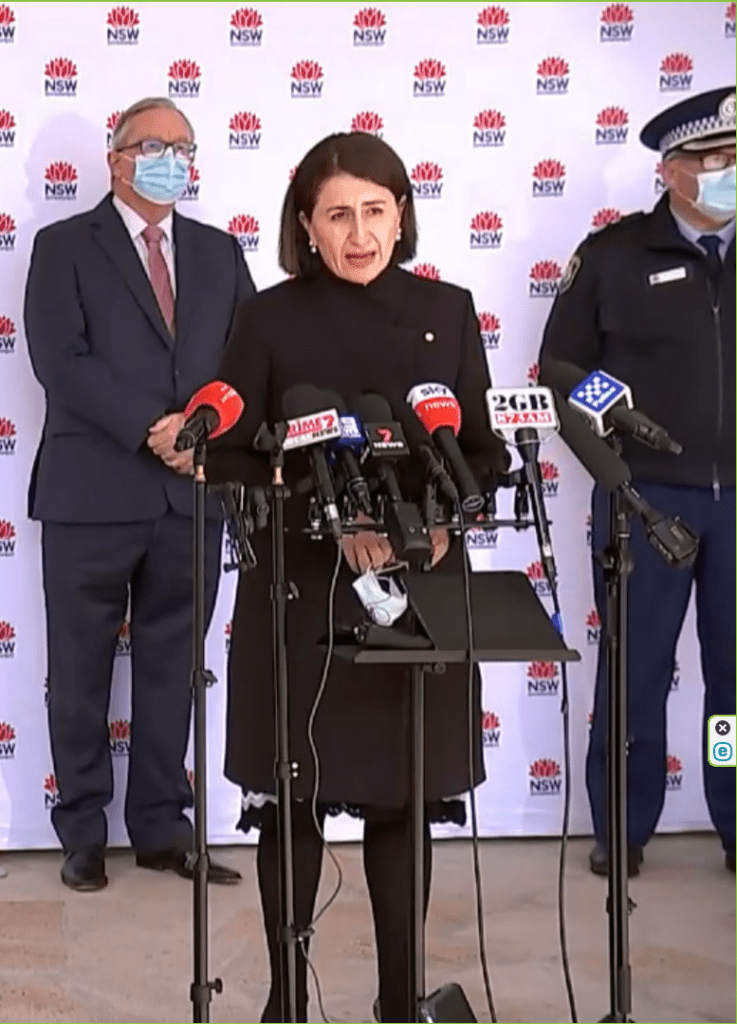 The Covid-19 tentacles have again stretched out to the South Western Sydney region.
For the first time in almost a year, since the Crossroads Hotel outbreak, a large number of people in the area have tested positive to Covid-19.
The major concerns of the NSW Government at present are in the Liverpool, Fairfield and Bankstown areas, which currently have 28, 25 and 31 residents respectively who have tested positive to the Coronavirus.
Earlier today the premier, Gladys Berejiklian, pictured above, put these three local government areas on notice they would be facing harsher restrictions than the rest of Greater Sydney.
Berejiklian also announced the current lockdown of Greater Sydney and nearby coastal regions would continue for a third week.
The premier foreshadowed tougher restrictions for Liverpool, Fairfield and Liverpool, where some of the cases of Covid-19 do not have a known source of infection.
Further south, in the Macarthur region, the numbers are much lower, with seven Camden residents and nine in Campbelltown respectively currently Covid-19 positive, all with a known source of infection.
However, this could change as Covid-19 virus fragments have been detected in both Camden and Campbelltown in the past week.
State Emergency operations controller, deputy Commissioner and former Liverpool police command chief Gary Worboys said now was not the time for people, particularly across South Western Sydney, to become complacent.
"Additional officers will be deployed across areas of concern that have been identified, including Fairfield, Liverpool and Bankstown, to ensure the public is complying with the current orders", said Worboys, pictured above with the premier and health minister Brad Hazzard.
Complaints from members of the public have led to numerous $1000 Penalty Infringement Notices (PINs) being issued in recent days.
Yesterday, officers from Liverpool City Police Area Command attended a barber shop on Flowerdale Road, Liverpool, after receiving information from the community that the business was still trading in breach of current health orders.
Police spoke with the owner, a 59-year-old man and a 22-year-old customer at the store receiving a haircut.
Both men were issued a $1,000 PIN.
In total, 75 PINs were issued yesterday and of those 37 were $200 infringements for failing to wear a fitted face covering.