At tomorrow night's council meeting at Campbelltown, one item for deliberation is listed in the business paper as: 14.1 Appointment of Native Title Manager.
We can tell you that much, but no more.
Why? Because that item has been placed in the confidential section of the agenda.
Why this is so is not clear, except that the "This report is CONFIDENTIAL in accordance with Section 10A(2)((a)) of the Local Government Act 1993, which permits the meeting to be closed to the public for business relating to the following: –
personnel matters concerning particular individuals (other than Councillors).''
We understand discussion regarding the appointment of a native title manager is part of changes brought in by the Crown Land Management Act 2016, which will start to take effect from July 1 this year, and some other parts next year.
Assuming council appoint someone to this new post on Tuesday night (June 11), it is rather hard to fathom the need for such secrecy.
But there's a strong case that the whole process – barring the names of any job applicants – should have been out in the public domain from day one.
Apart from anything else it looks like council is being professional and proactive on an important issue, so there's no reason not to do it all out in the open?
Then again maybe we should zip it – we don't want the AFP to come knocking on our door asking for reports that fell off the back of a truck.
xxxxx
Here's something worth writing home about: Macarthur community radio presenter Trevar Langlands must be on his way to some sort of world record: he has just been elected for his 21st year as NSW state president of the Fellowship of Australian Writers.
The group boasts about 600 members in NSW, including Macarthur, Liverpool and Wolondilly, and the Southern Highlands.
xxxxx
Talking about unusual records, former mayor Paul Hawker and wife Sigrid recently harvested a delicious pineapple from their Bradbury backyard.
It did take years before their pineapple plant finally produced some fruit, but according to the couple's Facebook post it was worth it.
xxxxx
Somebody else who grew up in Bradbury, Channel 7 reporter Sean Berry, has just returned to social media in an unusual pact with his older brother Adam.
Adam agreed to look after Sean's pet canine if the younger brother promised to go back to social media and post during his overseas holiday.
Sure enough, young Sean, who learned the art of reporting at the Macarthur Advertiser, has been posting holiday snaps on Facebook.
xxxxx
All the way from Honk Kong came an email from a Paul Martin asking if we had the phone number of Gary O'Neil, the man behind O'Neil's Adventureland on Camden Valley Way or the Hume Highway as it was known in those days.
"I was surprised when I read online that Adventureland was still opening, as I was told years ago that it was long closed,'' wrote Mr Martin.
"I lived with my sons in Liverpool area briefly in the 70s. As I was always in the media and showbiz, I decided we should create a comic and a live show and Adventureland was where we first launched it.
"I would be ecstatic if anyone had any photos about us there, I am sure many folk will recall us doing magic, etc. there.''
The Voice would be happy to pass anything on to Paul Martin, so just email us here at erickontos@southwestvoice.com.au with any pictures or information.
xxxxx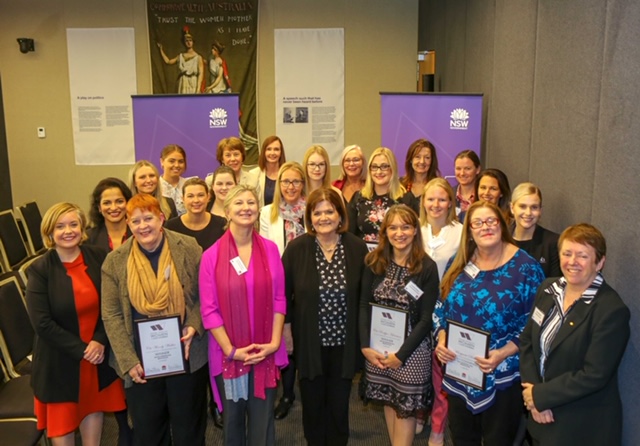 Liverpool mayor Wendy Waller, second from left at the front, was among the winners in the 2019 Ministers' Awards for Women in Local Government.
Minister for Local Government Shelley Hancock joined this year's winners at a ceremony at NSW Parliament House to celebrate their accomplishments.
The awards were established in 2008 to recognise the outstanding efforts of women at the grassroots level of government in metropolitan and regional councils.
xxxxx
Many, many moons ago, the late councillor John Hennessey suggested Campbelltown build a glass statue of Fred Fisher, but after much talk and talk and talk, the idea died a natural death.
Now the idea has been revived by the Campbelltown arts centre strategic committee, which is recommending that council refer it to the 2020 Bicentennial Committee for investigation.
Somehow we can't see the creation of such a monument having a ghost's of a chance.
xxxxx
Following a returfing in December last year, Campbelltown Sports Stadium is now the first major sport venue in NSW to use TifTuf, a hybrid Bermuda turf.
Not only that but the returfing project was featured in a turf industry magazine, TurfTalk, which is published by Lawn Solutions Australia, and distributed nationally.
It's such a shame then that hardly any high profile sport events will be staged on our stadium.
The Wests Tigers are scheduled to play just one more NRL match at Campbelltown Stadium this season, having played two earlier in the season.
In a year's time it will be a bit busier when the Macarthur FC Bulls start playing in the A-League 2020-21 premiership, but until then the description "white elephant" is not far off the mark.