Business owners in the Liverpool/Macarthur region have joined forces to create the next generation of business clubs, where the focus is on being inspired, learning and connecting.
The club is called ConnectFX, has no membership fees, uses online technology to deliver content useful to its members and holds monthly events at Macquarie Links Golf Club.
ConnectFX is the brainchild of local business owner Daniel Doherty, previously a director, treasurer and vice president of Liverpool Chamber of Commerce.
Daniel, assisted by another 11 local business owners, says ConnectFX delivers a fresh new format that is proving to be a massive success.
[social_quote duplicate="yes" align="default"]"Four events so far and we are hitting the 70 attendees mark", Doherty said.[/social_quote]
Providing useful content via their Facebook Group and Linkedin Discussion, the ultimate aim is to provide value for business owners and help their business grow.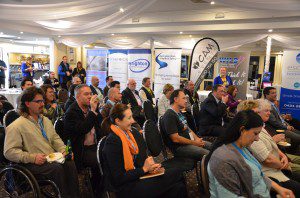 "Our monthly event is currently free and paid for by some sponsorship, but this will not last. Having our new venue as Macquarie Links has had us all step it up a bit. A minimal charge will eventually be introduced to cover the catering and room hire costs," Daniel said.
[social_quote duplicate="yes" align="default"]We love hearing business owners' stories and insights. Lots of business networking occurs as result when you have a room full of business owners. We encourage any business owner to attend.[/social_quote]
"I've always liked to give back and share great ideas with business owners but felt that our region lacked this and after a seven year stint with the chamber I was looking for a way to do this, so ConnectFX was born."
Daniel is no fan of multi-level or network marketing businesses.
"I just don't think they are real businesses. They rely on recruitment tactics I am no fan of and there are plenty of other events they would be welcome at, just not here," he said.
"We have a local business scene segment with representatives of the major business groups in the area, who tell us a little about what they are doing."
The ConnectFX event is always on the first Thursday of each month and booking is essential online at www.connectfx.com.au
Promotional video: