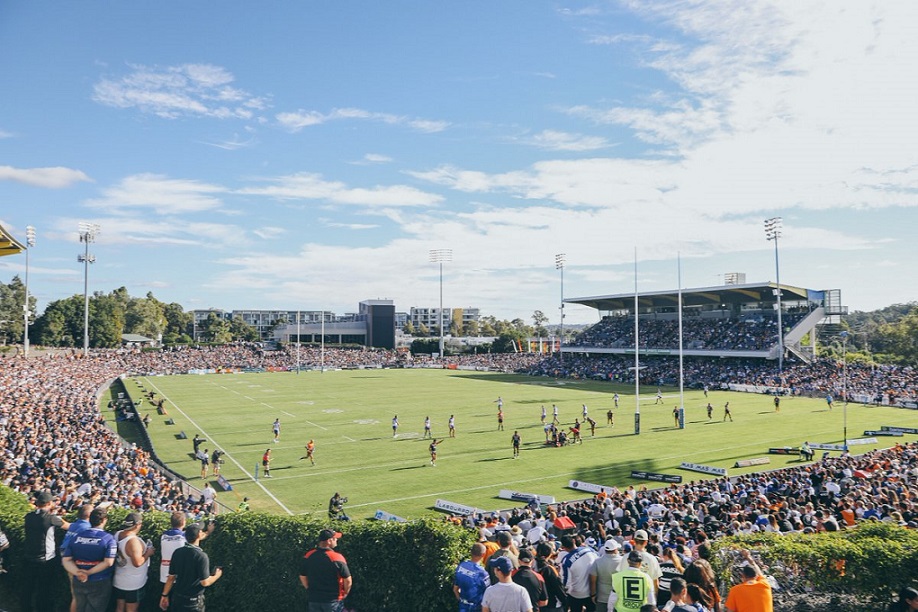 It's all hush hush, like a lot of issues at Campbelltown Council these days, but we can tell you that you won't have to change what you call our wonderful sports stadium. As predicted and reported in this column earlier this year, the expressions of interest process to find someone to pay mega bucks for the naming rights of Campbelltown Sports Stadium has fizzled out.
We hear that council has dropped the idea after just one expression of interest was received, and which apparently didn't come anywhere near the sort of money council were hoping for – around half a million bucks.
So we guess it's Merry Christmas to Campbelltown Sports Stadium.
xxxxx
Getting on with the business of Christmas are our rugby league mob, the Wests Tigers.
A number of first grade players recently took part in the club's annual Christmas toy drive, delivering presents to kids unfortunately spending the festive season in hospital.
Michael Chee Kam, Moses Mbye and Luke Garner handed out gifts at Liverpool Hospital, while David Nofoaluma, Corey Thompson and Josh Aloiai (pictured below) dropped in to put smiles on the dials of sick kids at Campbelltown Hospital. Nice work, fellas.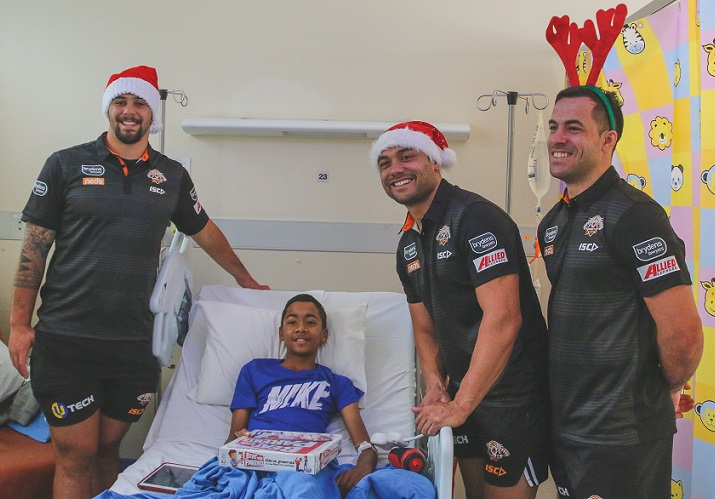 xxxxx
It's not such a cheerful Christmas story from one of the big four banks, NAB, which has sent letters to customers in recent days to inform them of plans to close the Ingleburn branch from January 30, 2020.
We're a customer and have to admit of being a little surprised because the tiny little branch on the edge of the Ingleburn Village shopping centre is always busy when we drop in to do some banking.
Hopefully their branch staff are given jobs somewhere else because they are good local people who have been at Ingleburn for many years.
The letter refers customers to the nearest branch, Macarthur Square, which these days is a bit of a hike if you live in Glenfield, Macquarie Fields or Ingleburn.
xxxxx
For the first time in many years there were no fireworks at the annual Campbelltown City Christmas Carols.
They were cancelled because of the bushfire situation and the smoke haze that has enveloped the entire metropolitan area.
The smoke must have affected attendance numbers this year, which were down from previous years.
However money saved from cancelling the fireworks went to a great local cause.
Campbelltown mayor George Brticevic reported to council last week that he was "proud to present a cheque for $4,500 to Dilly Drought Drive'', a local charity that supports the Macarthur region farmers doing it tough as a result of the drought.
Finally, there was a lot of support for a council post on social media announcing the decision to cancel the fireworks, so maybe it could become a permanent situation.
xxxxx
Minto residents are set to get their own festival next year, which will be held on the first Sunday in May.
A Minto on the Go sub-committee will be formed to organise the festival and entice local businesses and organisations to help out on the organising committee, as sponsors, and as participants at the festival.
Minto on the Go is made up of councillors, businesses, schools, chamber and other community representatives.
Its aim is to improve the image of Minto and its environs.
One of the areas they don't need to improve is the Christmas display in the Minto Marketplace shopping centre.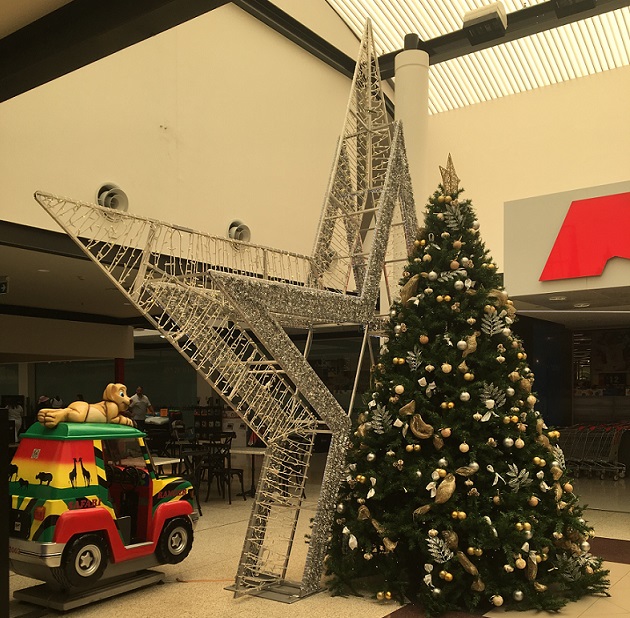 It is one of the most creative anywhere in the region; it's obvious management went to a lot of trouble, so well done everyone involved.
Merry Christmas everyone.