It is possible to deal with climate change without wrecking the economy, argues Labor MP Dr MIKE FREELANDER, the federal member for Macarthur:
Australia has been plagued by policy paralysis in the climate change arena for far too long. Conservative apparatchiks have made a sport out of pitting environmental policy against economic policy; this is the great folly of modern times. The reality is we can enact responsible and effective policies that are aimed at addressing climate change, providing economic prosperity and securing positive health outcomes for all Australians all at once.
These are not conflicting objectives; they are one and the same.
The public discourse around these issues would have many believe that these priorities are in direct conflict with one another. This sort of rhetoric is espoused by a few, very loud, individuals in modern society, all of whom have vested interests.
The Victorian State Government ought to be commended for demonstrating that sound economic policies can be synonymous with action on climate change.
The Andrews Government has set a renewable energy target of 50 per cent by 2030. Projects such as The Star of the South, an Australian-first offshore wind farm, are expected to find a home in Victoria.
It is crucial to note that this project is expected to create 2000 construction jobs.
We owe it to workers and job-seekers in NSW to provide our constituents with the same opportunities for employment in an ever changing jobs market, and in an uncertain economic climate.
Climate change is the most pressing issue of our time. Global warming is universal; it affects us all, and as a responsible global citizen Australia must do its part to stem the effects of climate change.
To pretend that it is not in our collective interest to take actions to stem to the effects of climate change is not only irresponsible, it is ill-informed.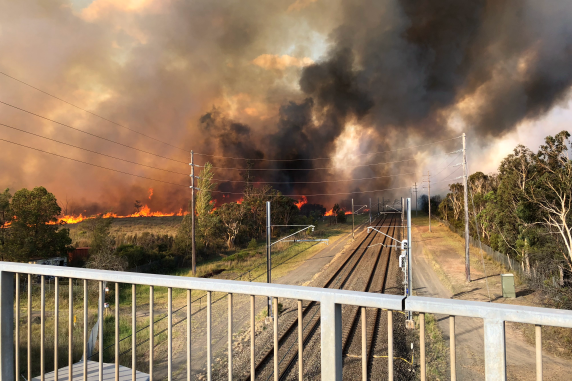 Wild weather events, including prolonged heatwaves, extreme bushfires and flash flooding, are becoming less of a rarity and more of a common reality. We cannot deny the role that climate change is having in the prevalence of these events, and we cannot afford to remain ignorant.
Science saves lives.
Our climate and energy policy ought to be more actively informed by our health objectives. The science is indisputable; global warming is placing lives at risk.
The people I represent in the Australian Parliament, those who reside in the Macarthur region, face some of the poorest health outcomes in Australia.
As a paediatrician who has practiced in the Macarthur community for close to four decades, I can attest to the fact that polarisation in policy has contributed to these poorer outcomes. One only has to consider the poor air quality that exists within the Sydney Basin, and areas such as Campbelltown and Penrith in particular, to see a correlation in our poorer health outcomes.
The NSW Minister for Energy and Environment, Matt Kean, is right to link the present bushfire crisis plaguing Australia to Climate Change. The Minister is right to call for greater action to reduce our carbon emissions; however it is most disappointing that there are still those in the Coalition that would seek to deny the science.
The Coalition remains divided on this front. The Deputy Prime Minister, Michael McCormack, has recently demonstrated his own failure to appreciate the science through his dismissal of evident links between the current crisis and climate change.
However, we shouldn't be surprised that these attitudes still exist in the Coalition Government.
After all, it was this deep ideological divide that drove Malcolm Turnbull out of The Lodge.