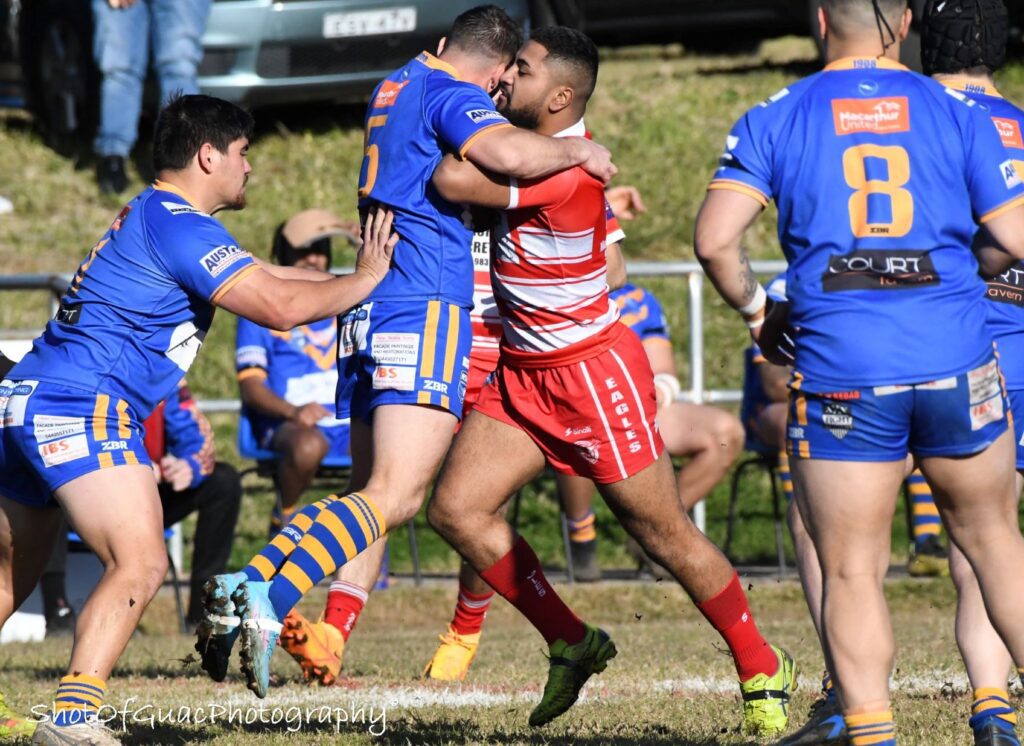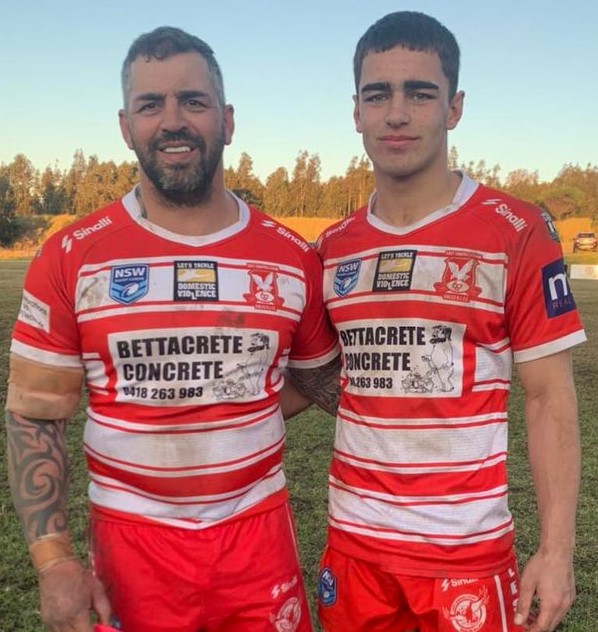 East Campbelltown Eagles have bragging rights in the bag after defeating cross town rivals Campbelltown City Kangaroos 36-28 in a thriller yesterday at Fullwood Reserve.
The match up was billed as the biggest game local Campbelltown Rugby League has seen since the early 1980s and it did not disappoint.
For most of the 80 minutes the two sides traded tries and it took a touchdown seconds from the fulltime hooter to seal it for the Eagles.
The willing contest had the large crowd on their feet and for neutral fans it was a shame somebody had to lose.
The Eagles though had an extra reason to savour their victory over their old rivals.
One of their favourite sons, Johnny Da Silva, took to the field with his 17 year old son Tallyn Da Silva on debut for firsts, pictured here.
The Eagles have jumped to outright second on the Macarthur rugby league conference [Group 6] with this latest win.
They are on 16 points, four points behind leaders Camden, who have played one more game than East Campbelltown.
The Oakdale Workers are third on 15 points, followed by the Oaks Tigers on 14 and Picton Magpies on 12.
The Campbelltown City Kangaroos sit just outside the top 5 with 11 points, but they have two games in hand, so they're still in the hunt for honours this season.
Campbelltown Collegians, the new kids on the block at this level, occupy bottom spot on the ladder, which will come as no surprise to anybody, including the club.
But the Collies have shown they can compete and are just short of class, something they will no doubt try to rectify for next season.
RESULTS
Campbelltown Collegians 10 Picton Magpies 34
Campbelltown City Kangaroos 28 East Campbelltown 36
Mittagong Lions 30 The Oaks Tigers 10
Oakdale Workers 14 Camden Rams 26
NEXT WEEK ROUND 15, SUNDAY 3PM
Collegians v Mittagong
Tigers v Camden Rams
Thirlmere Roosters v Kangaroos
Eagles v Workers
Picton – Bye
Main photo courtesy of our friends at SHOT OF GUAC PHOTOGRAPHY