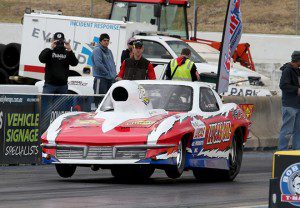 Camden's Jason Stares is right in the middle of a five way State of Origin battle for supremacy in the Summit Racing Equipment Sportsman Series.
The winner will emerge this weekend at the ANDRA Championship Season grand final.
In one of the most intriguing title fights, the Summit Racing Equipment Sportsman Series Top Sportsman honour will likely be decided in the final race with five drivers in contention.
Four of those five racers, Jason Stares (Camden, NSW), Paul Russo (Virginia, SA), Darren Saliba (Munno Parra West, SA) and Stuart McBain (Bunkers Hill, VIC) are currently on the maximum 300 points cap going into the season decider.
A further 40 points behind in fifth is Jason Arbery  (Mt Gambier, SA).
Stares and Russo each come into the weekend with two event wins this season while Arbery has one win to his name. McBain and Saliba are yet to break their duck this season and all five drivers will need a win to ensure they come out number one.
In just its second season as an ANDRA Championship bracket, Top Sportsman has fast become a favourite among spectators featuring some of the closest, most exciting racing in the Summit Racing Equipment Sportsman Series.
The banter between the racers is also first class but the four points leaders are all business when it comes to getting in the ring for a five-man fight worthy of WWE's Wrestlemania.
"To win the championship, we just need to do what we have been doing all season and that is focusing on my team and car, not worry about what everyone else is doing and just keep turning win lights on," says Stares.
[social_quote duplicate="no" align="default"]"We didn't go to Whyalla (in March) as we thought we needed to give the other boys a chance to get some points,'' he adds, tongue in cheek.[/social_quote]
"But being serious we didn't go to Whyalla as we had gone over the points cap at Portland and although I don't agree with the points system it's what we have to race by.
"There was not going to be any advantage in spending the money and time to go to the Whyalla race," Stares said.
Adelaide International Raceway is hosting the grand final round this weekend.