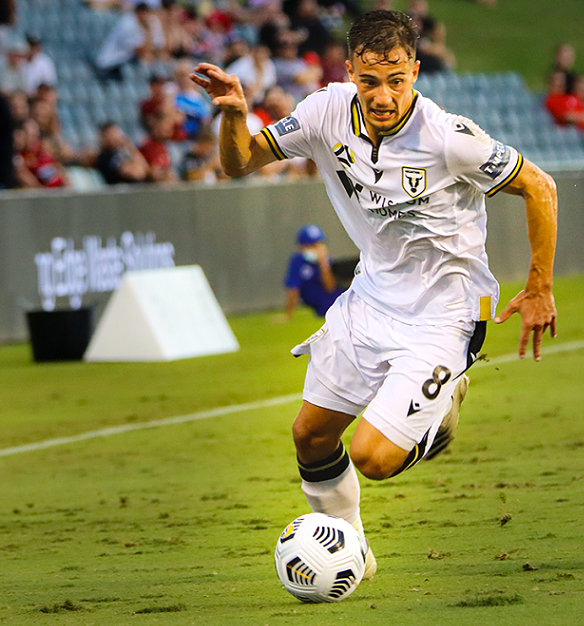 A-League action returns to Campbelltown tonight when Macarthur FC host Central Coast Mariners as the battle for finals spots heats up.
The Bulls and the Mariners are currently teams four and five on the ladder, both on 36 points, with three matches remaining.
The team just below them in sixth spot, Brisbane Roar, are 34 points but have a game in hand so are ready to leapfrog the loser of tonight's clash at Campbelltown Stadium.
The Bulls, who have yet to defeat the Mariners this season, welcome back from injury their "conductor'' Benat Etxebarria, a massive boost for the home side.
Also returning from injury is former Socceroo Tommy Oar, while Jake Mcging, Lachlan Rose and Eddie Caspers have also been named in the squad (see below).
Speaking yesterday, head coach Ante Milicic said he had spoken to his players about helping the side's sharpshooter Matt Derbyshire.
The Englishman has scored 14 goals so far, but the Bulls could do with contributions from others in that department.
Milicic acknowledged that, saying the players had been "notified''.
"We looking for more goal scorers, and need to give some support for Matty Derbyshire,'' he said.
"We have brought in some youngsters and notified the players, so hopefully they can give Matty some support.''
Milicic said the Socceroos selection of young midfielder Denis Genrau was well deserved and also reflected well on the Bulls.
"We are delighted for him, he's given so much to this football club, but at the same time he's also learned a lot here playing with some of the experienced midfielders like Mark Milligan and Benat.
"It is a great honour playing for you country and we wish Denis all the very best.''
MACARTHUR FC SQUAD v CENTRAL COAST (7.5pm KICK-OFF)
1.Adam Federici (goalkeeper),
2.Jake Mcging,
3.Antony Golec,
4.Benat Etxebarria,
5.Mark Milligan (C),
7.Ivan Franjic,
8.Denis Genreau,
10.Loic Puyo,
11.Tommy Oar,
12.James Meredith,
14.Moudi Najjar,
15.Aleksandar Susnjar,
16.Nick Suman (goalkeeper),
18.Eddie Caspers,
19.Michael Ruhs,
22.Liam Rose,
27.Matt Derbyshire,
29.Antonis Martis,
31.Lachlan Rose,
33.Markel Susaeta
(2-4 to be omitted)