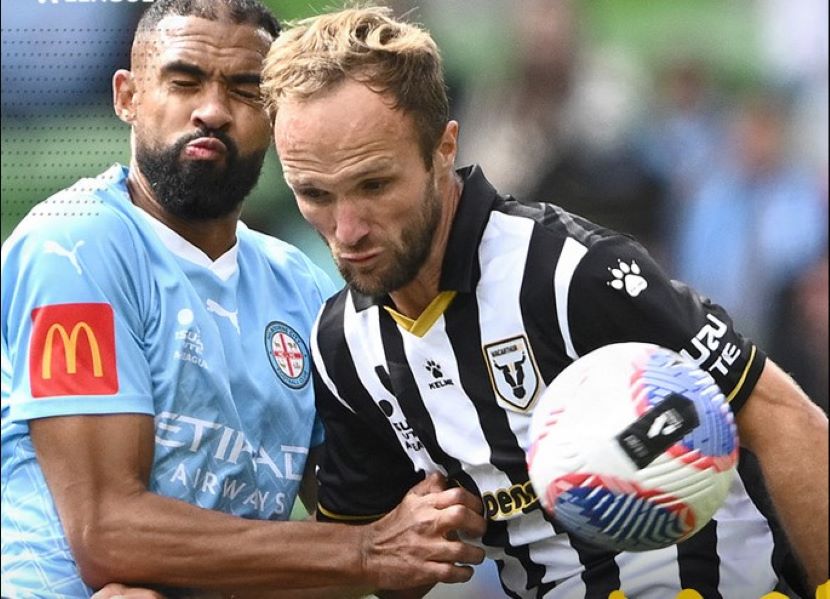 Macarthur FC played out a 3-3 draw against Melbourne City at AAMI Park yesterday afternoon in a match that had just about everything.
The Bulls were staring down the barrel of their first loss this season when City struck one hour into the game to go 1-0 up.
But the home side's joy was short lived because the Bulls hit straight back, with their captain Ulises Davila beautifully chipping over the goalkeeper to make it 1-1 a minute later.
The first 60 minutes had ambled along at 0-0 until both sides scored a goal each.
Then the game lapsed back into an arm wrestle for the next 20 minutes.
And then, just like that, it exploded, producing four goals in 10 minutes.
Goals to Jake Hollman in the 83rd minute and Matt Millar five minutes later had the Bulls in the box seat to take all three premiership points on offer and go straight to the top of the A-League after four rounds.
The 3-1 lead even had the mild mannered Bulls head coach Mile Sterjovski on his feet, although there was no smile on his face.
Unfortunately, there is no script for football games, so unpredictability is the word.
Melbourne City, two goals down, decided to go for it and a slick move paid off right on the 90 minute mark when Socceroo Jamie Maclaren scored his second goal to make it 3-2.
But that wasn't the end, because the officials added five minutes of play in lieu of stoppages during normal time.
And, surprise, surprise, Melbourne won a penalty three minutes into injury time to make it 3-3.
The Bulls had to scramble in the last two minutes to avoid losing a game they had in the bag four minutes earlier.
The final score, 3-3, probably was a fair reflection of how both sides performed.
It does mean the Bulls are still undefeated after four rounds, and return to Campbelltown next Friday night, November 24, where the will host Melbourne Victory, kick off at 7.45pm.