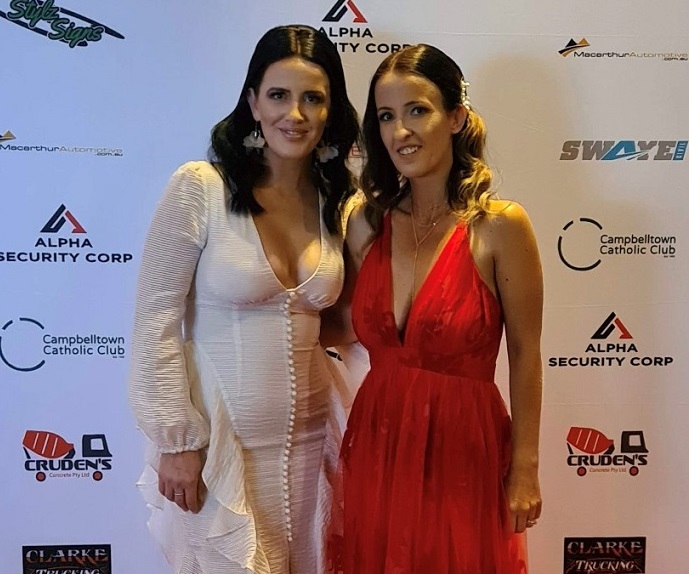 Reclining in a chair at Macarthur Cancer Therapy Centre as harsh chemotherapy drugs pumped through her body, Natalie Phillips' mind could have been anywhere.
The breast cancer diagnosis for the then 30-year-old mother of two came as a complete shock, but like most mums her concerns were for everyone but herself.
She wanted to use her experience to help others in the same situation and decide to create an annual fundraising ball for the National Breast Cancer Foundation.
"I put the idea to my sister Rachel Carter and she was on board straight away," said Miss Phillips, pictured above with her sister Rachel at Saturday night's gala.
"That's how Macarthur's Annual Breast Cancer Gala was born."
The inaugural gala was held at The Cube in 2019 and raised close to $30,000.
Coronavirus restrictions meant it couldn't be held in 2020 so when it came time for this year's gala, Natalie and Rachel wanted to make up for lost time.
"Social distancing restricted numbers to a little over 400 but tickets sold out quickly," Miss Phillips said.
"We had a wait list for any cancellations and people were messaging for tickets all week in the lead up to the gala."
On the night, guests dressed in black tie arrived to the sweet sounds of young local musicians Riley Lattuga and Bailey Chappel.
Lauren Azar provided the entertainment in between games and giveaways, comedians Madelaine Stewart and Bec Melrose had the audience in stitches and roving magician James Rhodes went from table to table stunning young and old with his tricks and illusions.
But a raw and heartbreaking speech by terminal breast cancer patient Alisha Salih silenced the noisy room.
"I reached out to Alisha after reading her story in the paper and I am so honoured she made the time to support our event," Miss Phillips said.
"Looking around the room, everyone was starting to well up and some people were sobbing. It really hit home how cruel and indiscriminate this disease can be."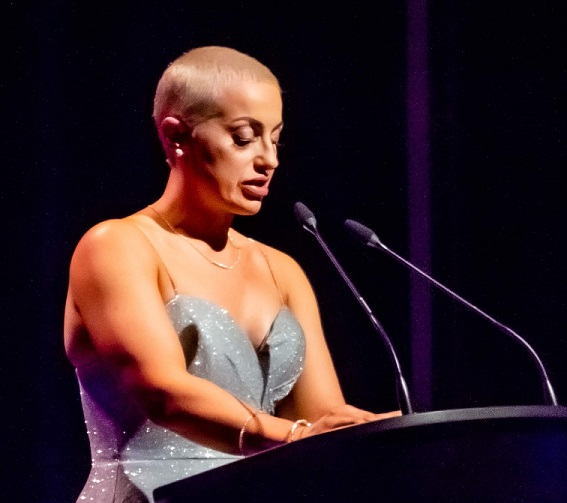 The brave 31-year-old mother of seven, pictured on the night, spoke of the reality that her intense treatment isn't going to save her, rather it will prolong her life until her body physically can't take any more.
She is determined not to let cancer control her life though and revealed she is working her way through a bucket list.
Late last year she competed in a body building competition and shared her joy at being able to marry the man of her dreams, surrounded by her beautiful children.
Once the formalities were over guests relished the chance to hit the dance floor and DJ Misho Lad kept everyone on their feet until midnight.
The final tally revealed an incredible $54,073.26 was raised from the event which will be donated to the National Breast Cancer Foundation.
"We were aiming for $40,000 so to exceed the goal by almost $15,000 was unexpected," Miss Phillips said.
"We can't thank all our supporters enough, especially our sponsors, donors and everyone who volunteered their time to make it a success."
Natalie and Rachel plan to make Macarthur's Annual Breast Cancer Gala an event locals can look forward to every May.
STORY by JULIEANNE HORSMAN.
PICTURES by SEBAZTIAN BARNS