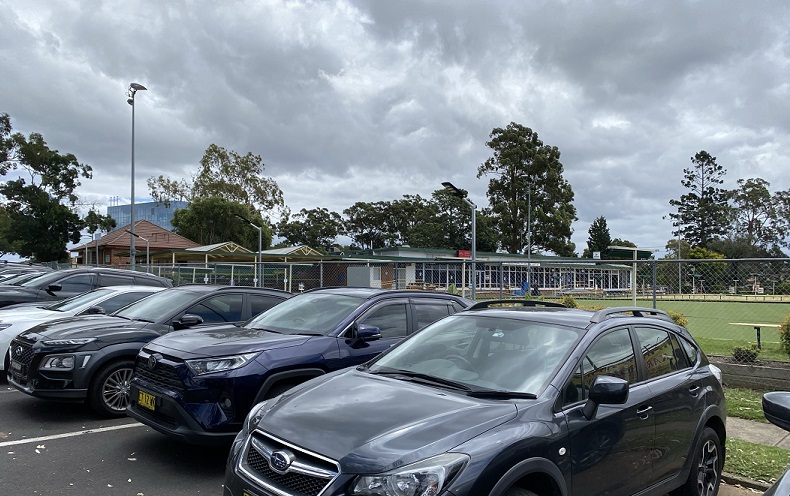 Campbelltown City Council has to do something to help the members of the Campbelltown Bowling Club.
Once upon a time the old bowlers could park their cars right next to the first bowling green in Howe Street, that little strip from Browne Street to the top of Mawson Park.
Howe Street is pretty much the bowlers' car park, or used to be.
It is a few metres' walk to the bowling greens and the clubhouse as it was designed to be.
What's happened is enough people have cottoned on to the fact that anyone can park there all day because there is no time limit signs, so by the time bowlers get to the club all spots are usually taken.
It means bowlers, young and old, have to lug their equipment quite a distance away, and some of them aren't getting any younger.
Not that any of them have complained.
Old bowlers are made of stern stuff.
Chilli Joe, the man behind Chilli Joe's Thai cuisine at the bowling club, told us about the problem last week, pleading for some quick action from the council.
Really, the only thing that is needed is a sign or two putting a time limit on the bowling club side of the Howe Street carpark, Joe said.
Two, three, four hours, it doesn't matter, so long as it stops the people who leave their cars there all day.
No doubt someone at Campbelltown Council will do something quickly but either way the Voice will let our readers know what happens
xxxxx
There were a lot of questions asked during last week's council debate on plans to spend $13m more on the Campbelltown Billabong Parklands up there at Apex Park, Bradbury.
Thanks to people like Cr Paul Lake now we know that council has $230 million in the bank or in investments.
We sort of knew that but what we didn't know was that $20 million of that $230 million is unrestricted, while the rest is restricted by law.
The $13 million will come from that unrestricted $20 million.
But we also found out how much it costs ratepayers to run major infrastructure such as the Campbelltown arts centre – between $2.5m and $3m a year – while Campbelltown Sports Stadium's running expenses come in at around $900,000.
Which reminded us of the time the local arts people used to complain that sport got most of the council money.
By the way, in case you missed it, council will be spending an extra $13 million on the Billabong over the next two years
xxxxx
Last Friday, I asked the waiter to take a photo with local filmmaker Daniel Fenech from Brickstudios, whom I was interviewing for a feature for the South West Voice.
As an old newspaper editor I noticed the young fellow was taking great care with the composition of the photo, so once he was done I asked him what he was doing when he wasn't making coffee at espresso warriors at Minto.
Daniel and I almost fell of our chairs when he told us he was studying film making.
Quick as a flash, Daniel gave him a business card and told the young man: "give me a call when you've finished studying.''
By the way, he took a pretty good photograph. here it is for you to judge.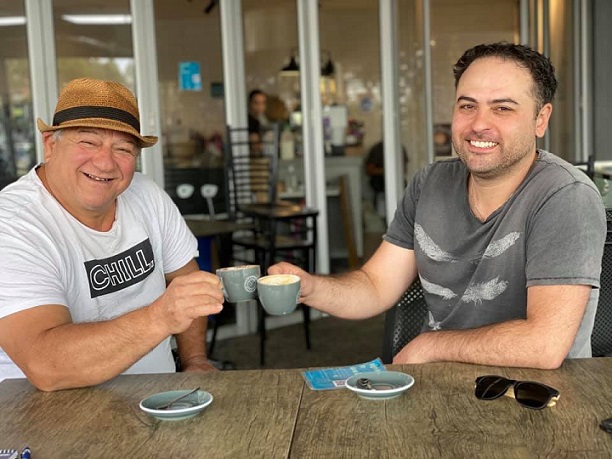 xxxxx
Former Fairfax colleague Peter Miller last week told me how he was pulled over for speeding on the Old Hume Highway not long ago.
There were roadworks at the time and a split second after noticing that the speed limit was 60 and he was doing a little bit more than that a police car passed him on the opposite side of the road.
Sure enough, the officer turned around and quickly pulled over Digger, as we called Peter Miller in the old days.
After taking his driver's licence, Peter noticed the officer was gone for quite a while, and started feeling that maybe he would not be booked after all.
First thing I have to say to you is congratulations, the officer said on returning.
According to the records the last time you were booked was 23 years ago – that's a pretty good record. And the second thing is that because of your good record I will just be giving you a warning today, said the police officer.
xxxxx
The new primary school in Oran Park has been named Barramurra Public School, from an Aboriginal word for the swamp mahogany species of Eucalyptus tree found in the Camden and Cumberland areas. Construction is under way at O'Keefe Drive for the new school which will cater for up to 1,000 students from Kindergarten to Year 6.
xxxxx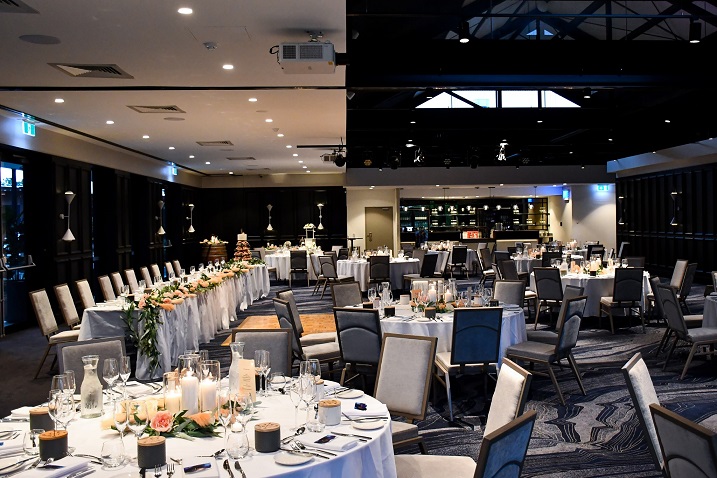 Thanks to Covid-19, it took a while for Menangle Country Club to hold its first wedding since its official opening way back in January.
But as you can see from the picture, the Manor was transformed into a stylish floral oasis for the happy couple, Alex and Ashley, who celebrated their big day recently at Menangle Country Club.
No doubt there will be plenty more such happy occasions now that the pandemic is in retreat in Macarthur, NSW and Australia.