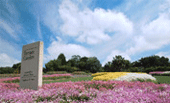 NOW is the perfect time to applaud plant conservation as the Australian Botanic Garden at Mount Annan turns celebrates 26 years of existence.
The epicentre of this nation's efforts to protect our 25,000 native plants from extinction, the country's largest botanic garden grows many of Australia's native plants and at the Australian PlantBank within its grounds, crucial research and seed storage is undertaken.
Visiting the Garden recently, Environment Minister Rob Stokes said since the Australian PlantBank opened a year ago, there had been 119 orthodox species banked and 23 recalcitrant species collected.
"The Garden is at the forefront of plant conservation, for example two critically endangered orchids currently undergoing processing will be stored in PlantBank," Mr Stokes said.
"An endangered rainforest species the Corchorus cunninghamii has been germinated and the seedlings will be planted in the Garden at the end of spring. Efforts are also underway to germinate a species which no longer grows in the wild, the Gentiana wingecarribiensis – if successful it will be saved from extinction."
Minister Stokes said the Australian PlantBank now holds close to 50 per cent of seeds of the 614 listed threatened species and many of them are NSW plants.
"Of the 5,810 known NSW plant species, over 43 per cent have been banked along with over 20 per cent of Australian plant species. The aim is that by 2020, all NSW plants will be represented either in PlantBank or growing within the Australian Botanic Garden," he said.
Minister Stokes explained when seeds can't be banked – recalcitrant seeds – other conservation options are available to scientists.
"Orthodox seeds tolerate drying, while recalcitrant seeds are intolerant to drying. Up to 30 per cent of rainforest seeds contain too much water to be banked – in other cases a plant's seed production can shut down or cease due to disease, natural disasters or clearing," he said.
"When seeds are recalcitrant, scientists at the Garden grow tissue culture in bottles and then make cuttings. They also use cryopreservation which freezes plant material at -196 ºC."
During his visit to the Garden, Minister Stokes met and was given a tour of the Australian PlantBank by John Siemon, the new curator manager of the Australian Botanic Garden. Mr Siemon managed the construction of the Australian PlantBank which this year has won two NSW architectural awards and is now vying for national and international awards.