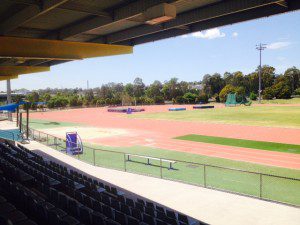 The Campbelltown sport complex at Leumeah will be a hive of activity in January next year.
The football stadium will be echoing to the sound of soccer ball as the Chinese national team practice for the finals of the 2015 Asian Cup.
Next door, the Athletics Centre will once again host the bi-annual Trans-Tasman Challenge in 2015.
The venue successfully hosted the event in 2013 and organisers were so impressed they decided to come back.
The Trans-Tasman Challenge is for athletes in the under 11 and under 12 age groups of Little Athletics from NSW and Auckland, New Zealand.
Every second year a team from NSW, both boys and girls, travel to Auckland to compete in the Trans-Tasman Challenge and on alternate years a team from Auckland travels to Sydney to compete against a NSW team.
The 2015 Trans-Tasman Challenge will be held on Janurary 18 next year.
The UWS Collegians Athletics Club is heavily involved with staging the event and is working with Little Athletics NSW to ensure its success.