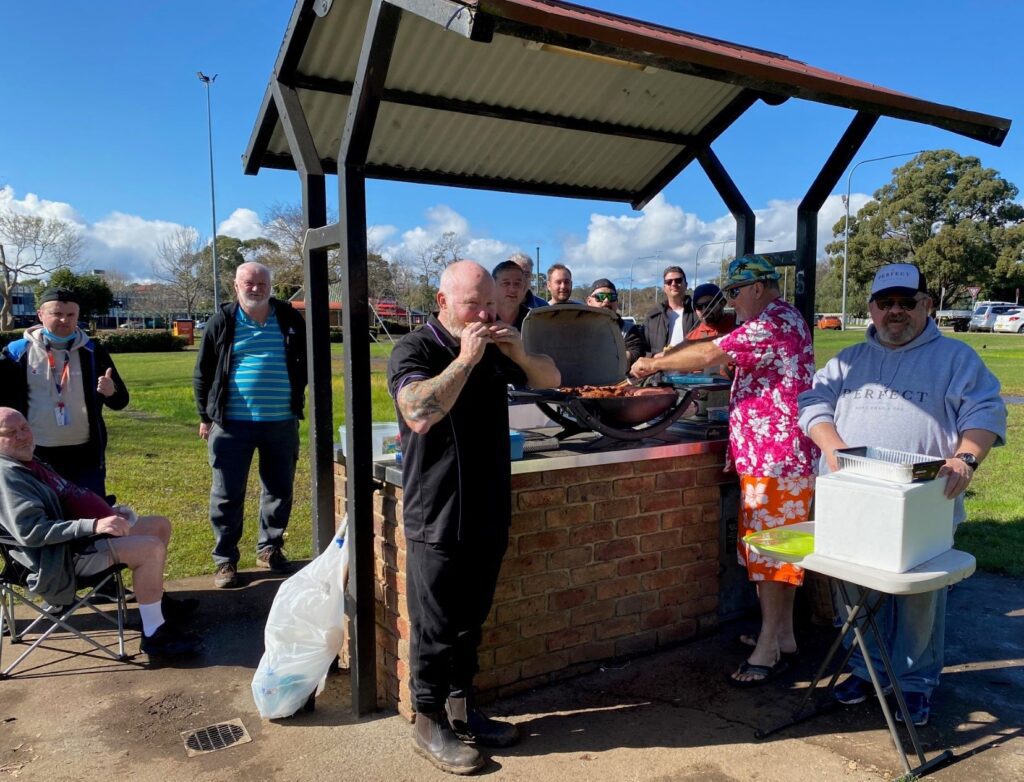 From a distance, they look like any other group of family and friends gathered around a barbecue in Koshigaya Park.
As you get closer, though, you notice that this is made up of men only.
There's a reason for that: these monthly barbecue gatherings are only open to local men.
The South West Voice in Macarthur is there at the invitation of the man behind the local chapter of an organisation called Mr Perfect, Rosemeadow resident Leigh Ninham, pictured at right (white cap).
We've never met Mr Ninham in person before, so we ask the first person we come to if they can point him out to us.
Leigh Ninham is a typical Campbelltown fellow: friendly, fair dinkum, what you see is what you get kind of person.
He introduces me to his colourfully dressed chef Peter, who has the personality to match his outfit.
Then he gets me to say hello to a special guest for the day, Paul Mackin, from We Are Community, pictured above taking a bite from his sausage sandwich.
"This is a very good initiative,'' says Paul, whose organisation runs a similar barbecue every Saturday on Blaxland Road that's open to everyone, men, women and children.
"We'll be certainly telling men about the Mr Perfect BBQ,'' he says.
Leigh Ninham gives me the lowdown on the gathering: it's on the third Sunday of every month, in Koshigaya Park between 10am and 12 noon. It's free for everyone who turns up.
If it's wet, everyone is instructed to head to the Campbelltown Catholic Club across the road.
foyer if it's wet, 10am to 12 noon.
"The sort of fellows that benefit out of this are guys who may be living alone, living with mental illness, and guys who just want to get out and talk to somebody, get out in the sunshine,'' says Mr Ninham.
"There is a lot of people who live by themselves, these days, including men.
"I was on the mental health committee for South West Sydney and one of the chaps on it was talking about Mr Perfect about a year ago.
"I thought, this is just the kind of thing we need for Campbelltown, so I got in contact with Mr Perfect and went from there, setting up the Campbelltown group.''
Mr Perfect is a community organisation connecting men via the regular across 33 local groups like the Campbelltown one founded and now run by Mr Ninham.
But it also offers online resources to help men with mental health issues.
If you think this is something for you go to Facebook and search for Mr Perfect.