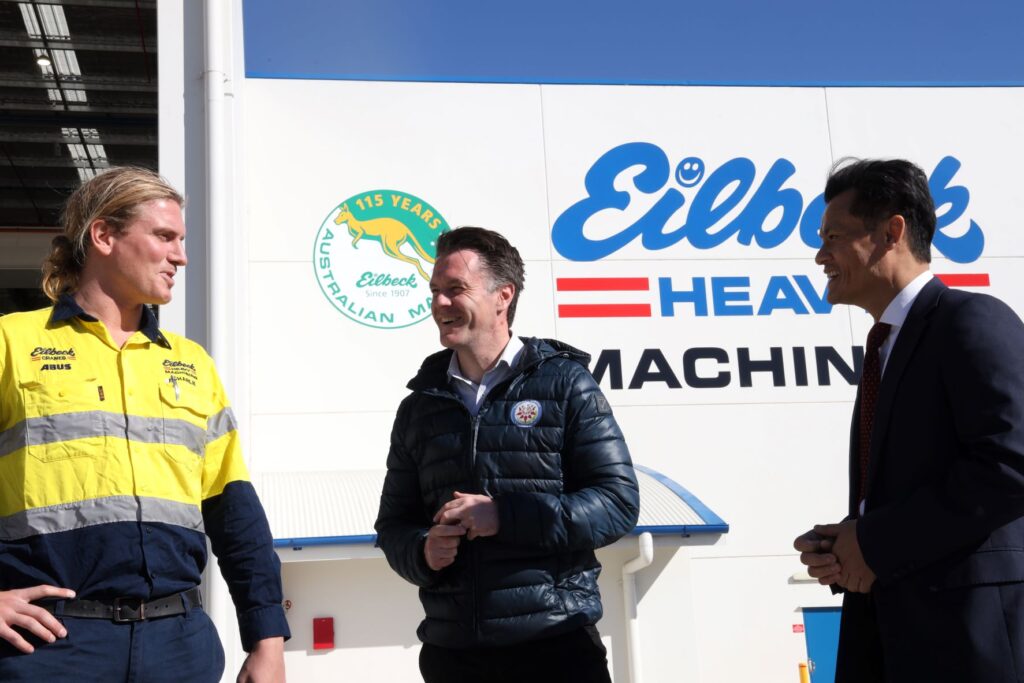 Macquarie Fields MP and shadow minister for finance, industry and trade Anoulack Chanthivong is calling on the Liberal Government to heed the message of Australian Made Week and commit to domestic manufacturing.
Mr Chanthivong visited Ingleburn manufacturing company Eilbeck Heavy Machinery with NSW Labor leader Chris Minns to coincide with the start of Australian Made Week, which encourages consumers to choose locally made and grown Australian products.
They were joined by Charlie Eilbeck, the fourth generation of the family running the 115 year old business.
"For too long, the Liberal Government has turned its back on local manufacturers by choosing to outsource and offshore infrastructure projects," Mr Chanthivong said.
"Overseas built light rail, ferries and trains have been marred by safety concerns and budget blowouts. These transport projects are timely reminders that infrastructure could be – and should be – built here."
Mr Chanthivong said domestic manufacturing employed 250,000 people in NSW alone and contributed $100 billion to the Australian economy.
"By committing to domestic manufacturing, we can help grow businesses like Eilbeck Heavy Machinery in Ingleburn and create much-needed, well-paid local jobs," he said.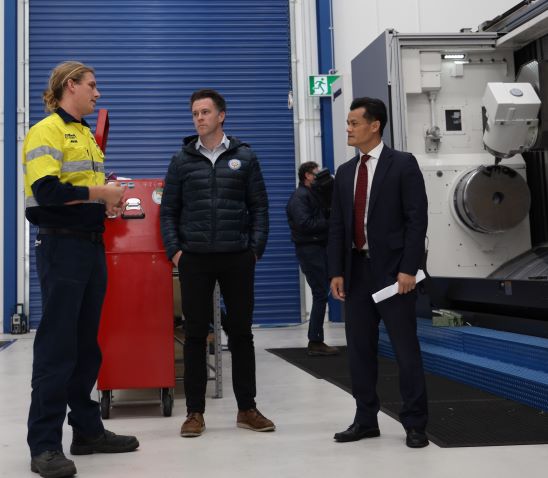 "The Liberal Government's ideology of outsourcing manufacturing has meant lost jobs, missed opportunities for local industry and lower economic growth."
Mr Eilbeck said the company took pride in being part of local manufacturing in Australia.
"You see our sign out the front here it talks about Australian made, that's who we are and that's what we're investing in,'' he said.
"Here we're in a new facility, we've invested about $20 million of private capital into this Australian market and Australian manufacturing.
"We're continually growing, continually developing in this business,'' he said.
Mr Minns commended Eilbeck for being "an amazing Australian company, 100 per cent Australian owned, been operating for over 100 years''.
"We believe that NSW is great at making things, we believe in domestic manufacturing, but it does need a helping hand from the NSW Government,'' Mr Minns said.
"But I think it's worth noting in Australian Made week that we've got amazing know how right here in NSW, we've got an excellent education system, we've got innovative leaders like Charlie, but it does require someone to have belief in what's possible in this state.
"That's what we hope to bring to the table as we approach March 2023.''
The next state election will be held on the last Saturday of March next year.