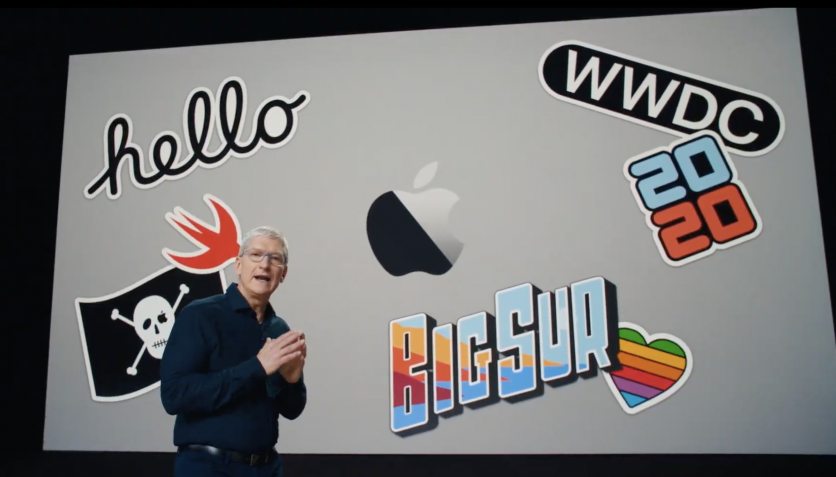 Apple's annual conference was surrounded by many rumours about what was pending to be released from hardware updates for iMac and Macbook Pro, software updates to iOS, iPadOS, WatchOS and tvOS and new services such as car key and air tags.
The conference was delivered online only, the first time ever as thousands of avid developers and tech lovers were not able to attend Apple Park's theatre and the show was delivered online through platforms like Youtube.
So rumours became fact quickly as the announcements started rolling out, including the major announcement of moving away from Intel chips in favour of ARM chips, which currently run phones, tablets, TV and watch – and introducing them to Macbook and iMacs.
Intel to ARM transition over the next 2 years as discussed by Tim Cook, the Apple CEO (pictured), and a major shift for software developers to update their apps code to become compatible with ARM.
The decision to move away from Intel comes from shipment delays in new chips and long refresh cycles for the laptops and desktops.
Using existing ARM and new ARM chips will allow Apple to move quicker in refreshes, and a universal environment between iPhones, iPads and the Macbook – immediately allowing iPhone/iPad apps to run natively on a Macbook Laptop or iMac with ARM processors.
This means thousands of your favourite apps on the laptop!
Developers who supply software on the Intel platform will be fast tracked to update their code to be compatible with ARM using software assistance via Rosetta 2 to bring the software across to the new processors. This could also allow for Macbook applications to work in the iOS environments.
MacOS Big Sur was announced for Macbook and iMac, which is the next major release since OS X. Big Sur will begin bridging the Laptops and Desktops to the iOS software, updating icons and major functionality to align with iOS such as messages. More details will be available from now and when it releases in September/October 2020.
iOS 14, iPad 14 and watchOS/tvOS new versions were announced with major updates to how you will interact with the phone/tablet including updated home screens, app stacking and more.
Other products such as Car Key were announced, rolling out soon with partner BMW to integrate the hardware and software to unlock your car.
Missing from the line up was anything about Air Tags, which are physical devices you can attach to important objects such as keys, wallets, bags and use your phone to locate them.
No hardware was announced for this refresh cycle in the conference, as Apple had just updated the 13 inch Macbook Pro with Intel 10th Gen chips, and the 16" back in November 2019. Hardware is expected to start refreshing from Q2 possibly with OLED screens and maybe the first ARM based Macbook/iMac.
While the conference was software heavy, it is the first step to getting software developers to begin making their applications compatible with what is coming in the next 2 years.
Matthew Gabriel is a local website developer who runs Simply WordPress Sydney.