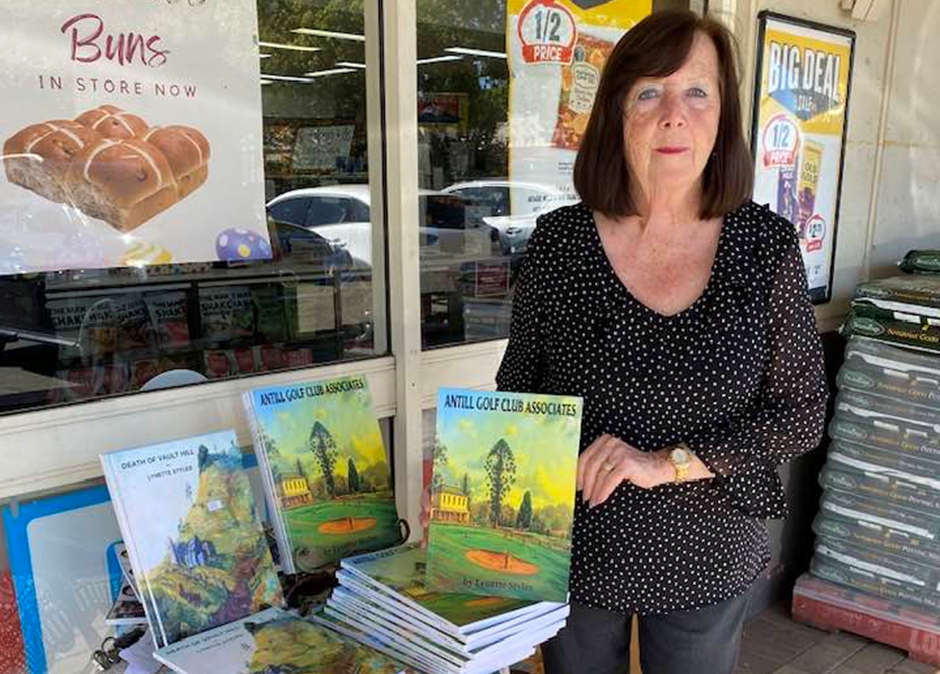 On April 29 Wollondilly Library will celebrate its makeover with, among other activities, a book reading by a local author.
Marjo Hallowell will be talking about her book, Bargo 200 Years in the Making.
But there's one local author who won't be invited to the celebrations, and that's former councillor Lynette Styles, pictured above.
Not long after her celebrated legal stoush with the council over her previous book, Antill Golf Club Associates, Ms Styles was back in Picton a few days ago spruiking her newest literary production, The Death of Vault Hill.
"I met loads of people, lots remembered me,'' she told the South West Voice.
"Not a single solitary face to face complaint.
"All were negative about Council.''
Ouch.
If that hurt it wouldn't have had anything like the sting of radio man Ray Hadley's missive last Friday, when he read part of a letter from the Antill Country Golf Club board.
Hadley said the letter alleged serious improprieties in relation to the tender process for the lease of the golf course.
The Voice sought to check the tender on the council website to see when it was due to close, but when we clicked on the link that old "This page is currently unavailable'' popped up on our screen .
We're waiting to hear what that's about back after informing council.
Hadley meanwhile finished off the Antill item by saying he would have a few questions for the mayor, Matt Gould.
xxxxx
The Campbelltown City Kangaroos, our oldest footy club by a country mile, did well to get a $70,000 commitment just before the voting started on Saturday and will now get a security fence erected around their home ground at Fullwood Reserve.
The funding will allow for the construction of new fencing as well as work to ensure council-owned assets are kept safe.
Campbelltown MP Greg Warren, who was elected for four more years, confirmed the funding for the club.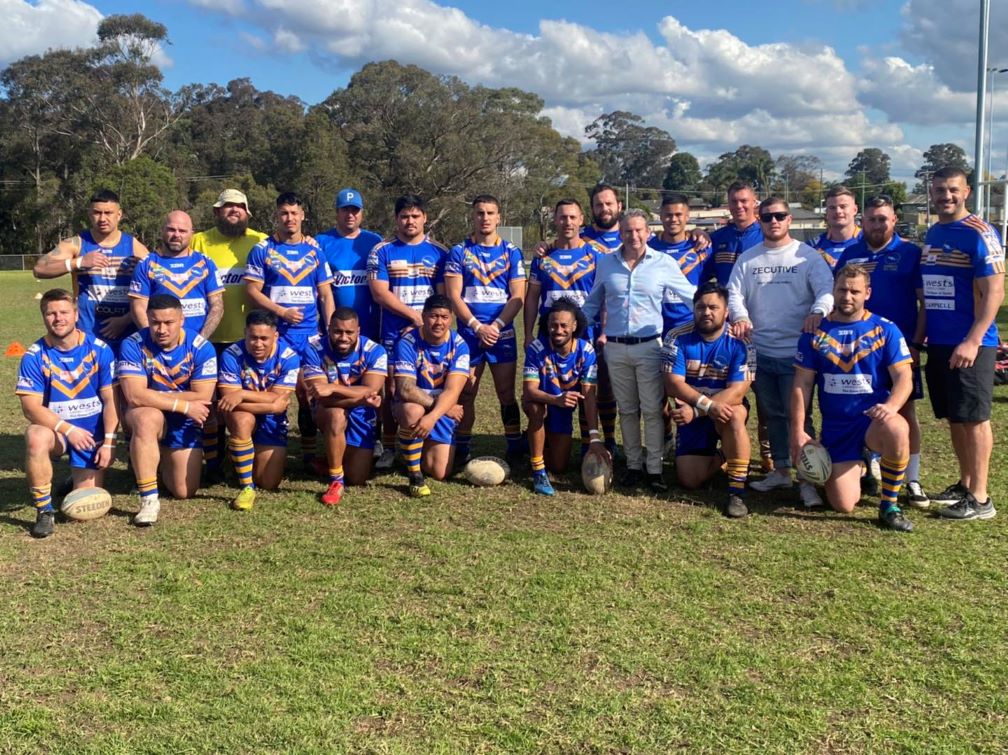 "This funding will make a real difference to the Campbelltown City Kangaroos and their home ground,'' he said.
Mr Warren, who is set to become a minister in the Minns Labor Government, is pictured above with the Kangaroo tribe at Fullwood Reserve.
The footy side, meanwhile, celebrated the funding news by winning its opening round Macarthur Conference (Group Six) match in Picton yesterday 28-20.
xxxxx
Darcy Lound, the Labor Party leader on Campbelltown Council, was very generous in his praise of the recent Mayor's charity gala dinner.
"The most successful one for years,'' Cr Lound told the council.
It's worth noting he was referring to a Liberal Mayor's charity dinner, but was he having a dig at his predecessor, a Labor mayor who is no longer a member of the party and now sits next to the Liberal Party councillors?
"More than 250 people attended, helping to raise almost $80,000, not a bad effort for one night's work,'' Cr Lound added.
Dig or not, the money will go towards the purchase of a $48,000 scalp cooling machine for Macarthur Cancer Therapy centre at Campbelltown Hospital, and three new chemotherapy chairs worth around $8000 each.
xxxxx
Why don't you do a story about the missing link over the railway between Broughton Street and Badgally Road, Campbelltown, a reader asked a few days ago.
The reader informed us that in the 1980s Campbelltown Council, Macarthur Development Board along with the State Government had promised this infrastructure.
"At the time the land was to be acquired. Now the land has been acquired it has been turned into a council car park this year,'' the reader said.
"A promise that has never been kept by any MP or Councillor.''
The only thing we can add is that for some reason the current council is no longer active in this space, even though there are good arguments in favour of such a bridge to alleviate traffic congestion in the centre of the town now and in the future.
Maybe it's because the cost of building such a bridge is now closer to $200m than $100m.
xxxxx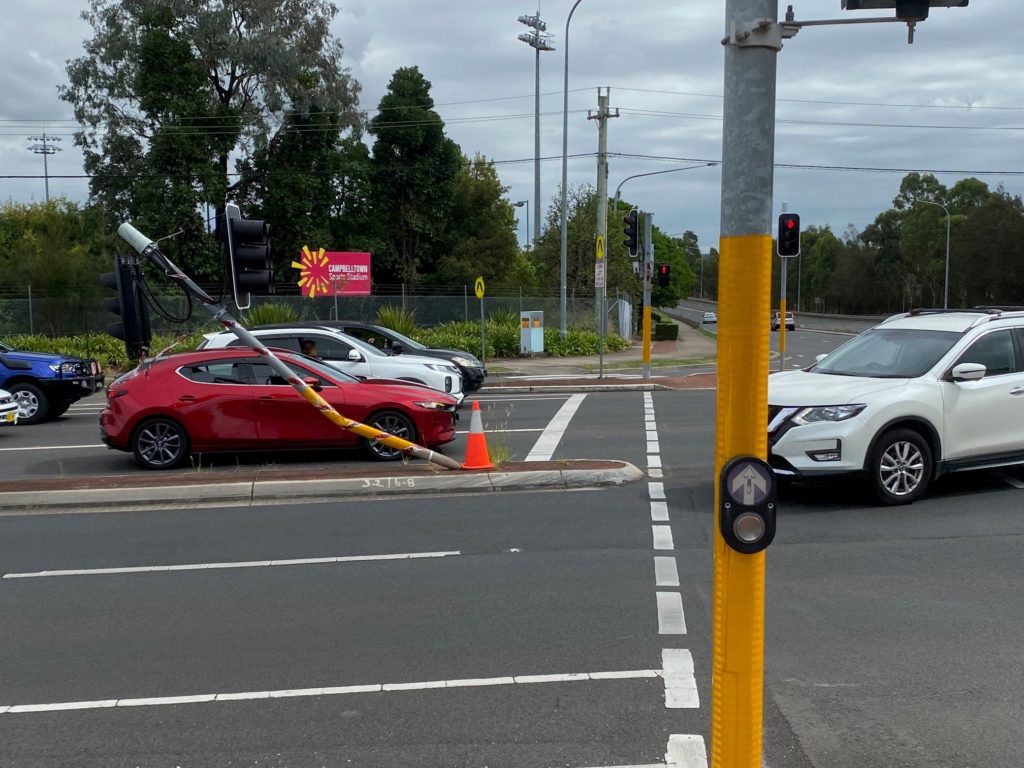 Nor can we shed any light – no pun intended – on how this traffic light pole on the intersection of Rose Payten Drive and Pembroke Road, right in front of the Campbelltown Sports Stadium complex, was bent backwards to an almost horizontal position.
The lights were still working when we drove past a few times over the weekend, but we had no answer to anyone who asked was it vandals or a vehicle smashing into the pole.
If anyone does know, please drop us a line.