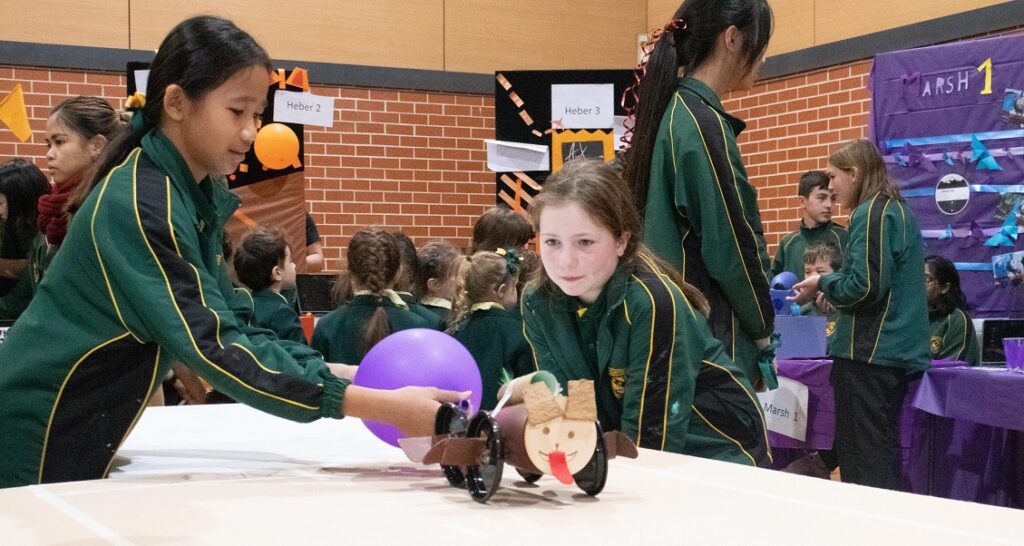 Once a year, science, technology, engineering, the arts, and maths – STEAM for short – are in the spotlight for Year 7 students at Macarthur Anglican School.
The day is all about teaching students about problem-solving, creative solutions and real-world challenges and 2021 was no exception.
"At this year's event students were asked to design, make, and demonstrate how to market a children's toy, and although that can be seen as an enjoyable activity, it is also a challenging problem-solving activity that encourages students to use a number of crucial skills,'' says Laura Campisi, faculty head of mathematics.
"STEAM activities prepare young people to solve problems and learn skills to prepare them for the real world.''
The day was held in the school's gymnasium and involved all Year 7 students, around 100 of them, working in groups of six.
"Another important aspect of the day is the students working collaboratively in groups,'' Ms Campisi said.
"They are encouraged to take on roles based on their interests and skills like marketing manager, designer and engineer. Working in groups teaches them valuable lessons about co-operation, teamwork and compromise.''
The STEAM day has been run by the school for four years.
In 2021, students were asked to design a toy that would be suitable for a four-year-old.
Students from the transition (kindergarten) class and Year 1 vote for their favourite entry and teachers make the final adjudication and decide the winners.
"I'm constantly surprised by the inventiveness and creativity from the students,'' says Ms Campisi.