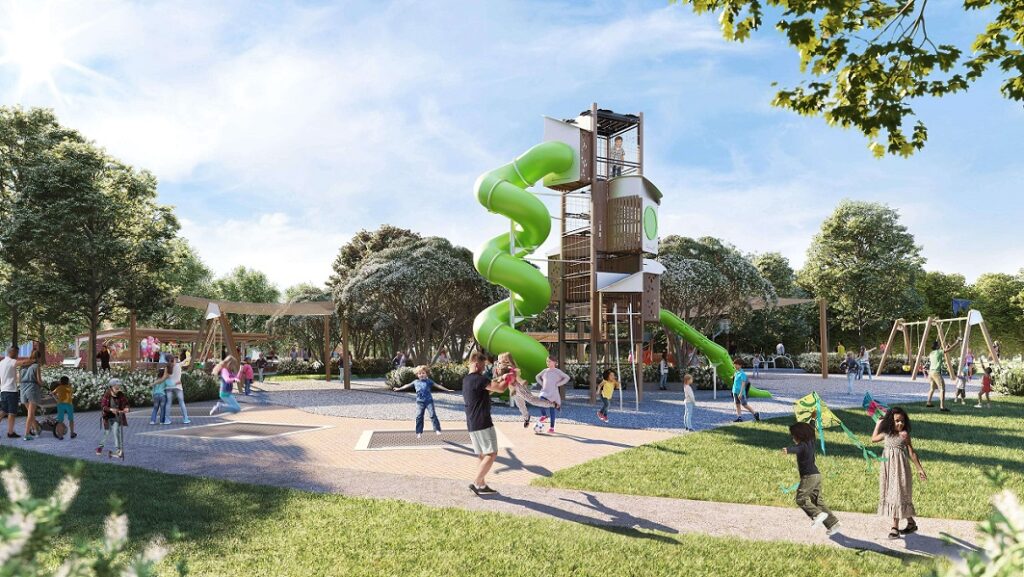 Families living in the Wilton area will soon have access to two new custom-built parks in Bingara Gorge.
Work has already started on Bingara Gorge Park and Greenbridge East Park, a project valued more than $3 million.
Metro Property Development, who are behind Bingara Gorge in Wilton, say global design studio, landscape architects GroupGSA designed the interactive community facilities, while landscape contractors Landscape Solutions will deliver the state of the art parks.
Bingara Gorge Park will extend across four hectares and feature a colourful playground, dog park, walking trails, shelters and picnic facilities, half basketball court, skate park, outdoor fitness and kickabout areas.
Located to the east of Bingara Gorge Park, Greenbridge East Park will span 7,000 square metres.
Play facilities, shelters and barbecue areas, walkways and native planting will nestle beside the adjacent water body.
"Metro is focused on investing in world-class facilities that support an active lifestyle and add significant value in the communities where they are built,'' says Jeff Atkinson, project director at Metro.
"Bingara Gorge already has several state-of-the-art outdoor amenities. Over 200 hectares of green wide-open spaces provide the perfect setting to enjoy recreational pursuits. Building high-quality facilities for residents to embrace an outdoor lifestyle is an integral part of the masterplan design.
"The new destination parks will become focal points to meet neighbours and friends in a tranquil outdoors environment.
"GroupGSA was engaged to design interactive amenities that are accessible for all ages and abilities,'' he said.
Tim Buckle, managing director at Landscape Solutions says both parks will meet the highest quality and design standards.
"Patronage in local and regional parks has boomed over the past 24 months. Bingara Gorge's adventure parks will ensure residents and visitors have the space they need to enrich outdoor activities, a positive outcome for both physical and mental health."
Last month, Metro acquired the 18-hole championship golf course in Bingara Gorge, designed by ex PGA professional Graham Marsh as well as a 4,760 sqm parcel of land, set aside for a country club plus land for parking directly adjacent to the club.
Bingara Gorge is a 450-hectare site that will comprise 1800 homes when completed in 2024.
Metro says more than 200 hectares of open spaces, a golf course, playgrounds, tennis courts, walk and cycle paths, leisure centre, retail shops, childcare and primary school will feature in the development.