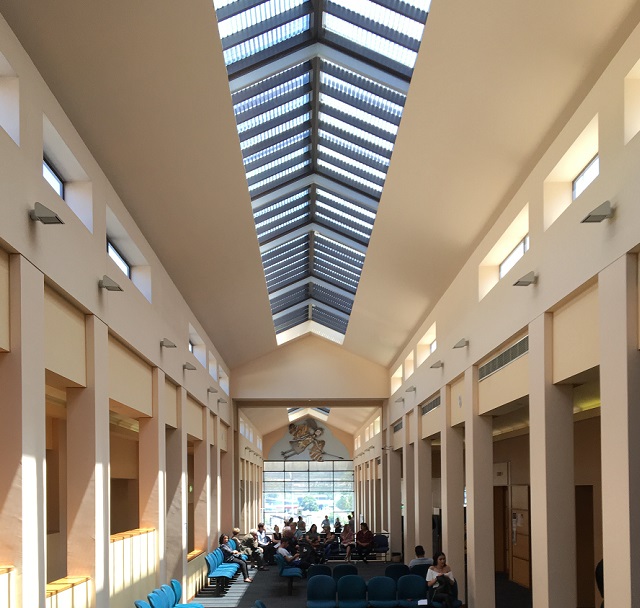 A 51-year-old woman allegedly spat at an employee of an Eagle Vale fast food outlet and then coughed in the face of a police officer after claiming she had tested positive for coronavirus.
About 8.20pm, officers from Campbelltown City Police Area Command were called to a fast food restaurant at the Eagle Vale shopping centre, after a woman allegedly spat at an employee and shattered a glass door at the store.
Police were told the woman became aggressive and spat at the 18-year-old staff member when her card failed while attempting to pay for her order.
The older woman was subsequently arrested in the shopping centre and taken to Campbelltown Police Station.
While in custody, it's alleged the woman claimed she was positive for Covid-19 and coughed in the face of a male senior constable.
After the woman was charged she was refused bail to appear at Campbelltown Local Court (pictured above) today.
xxxxx
In a separate incident, a man has been charged after allegedly sexually assaulting and harassing a teenage girl and threatening another.
In March 2020, officers from Campbelltown City Police Area Command commenced inquiries into reports a man was allegedly threatening to distribute intimate images of a teenage girl without consent.
Following inquiries by detectives, a 21-year-old man was arrested at Campbelltown Police Station yesterday.
Police will allege the man sexually assaulted and harassed a 17-year-old girl on multiple occasions in March and April 2020. He also allegedly threatened her with distributing intimate images.
He was charged with sexual intercourse without consent, two counts of threaten to distribute intimate image without consent, common assault and stalking.
Police will further allege he threatened to disseminate intimate images of a 16-year-old girl without consent in March 2020.
The man has been refused bail to appear before Campbelltown Local Court via AVL today.