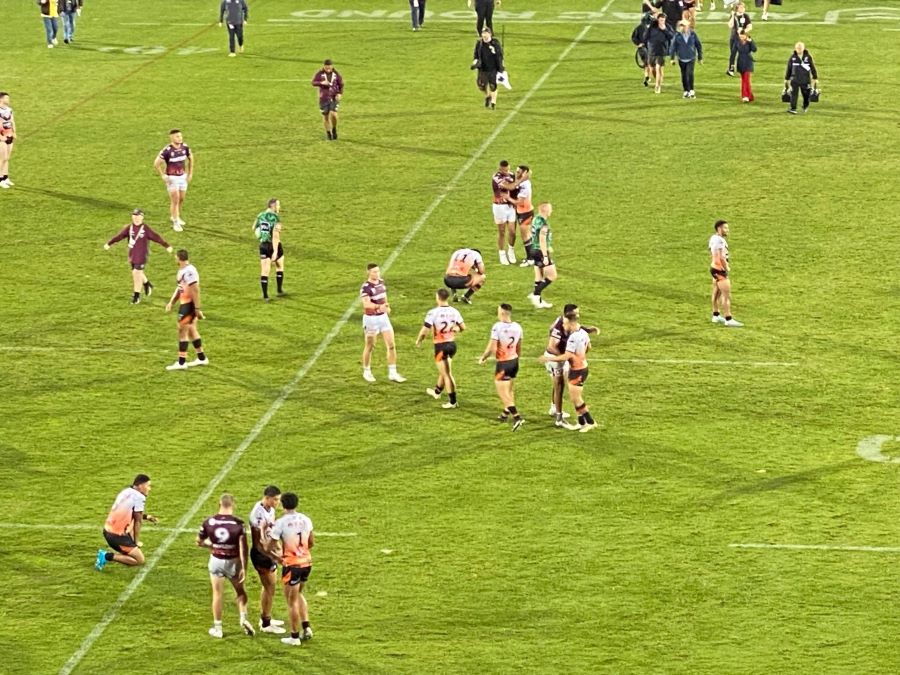 More than 10,000 fans at Campbelltown Stadium last night witnessed another heart breaking loss for Wests Tigers.
The 22-16 defeat to Manly means Wests Tigers are still winless in 2023 after eight rounds.
But coach Tim Sheens vowed after the match that the playing group, while disappointed with the result, would continue to stick together and look for that maiden win.
Our picture taken shows players from the home side on their knees, clearly disappointed, moments after the final hooter.
"I am not disappointed with the effort, it was little things like execution that let us down,'' Sheens said.
And he was 100 percent right.
Most teams commit the same errors but still manage to finish on top some of the time.
It's just not happening to this team, and you wouldn't be human if you did not feel sorry for these boys.
Last night Wests Tigers started strong and could have been so easily up by two tries.
One was deemed a double movement, possibly caused by the slippery conditions- and what may have been an ankle tap on Issaiah Papali'i.
But just when it looked like Wests Tigers would score, the opposite happened.
Nine minutes into the game Manly put on an attacking raid after getting some possession, and it led to a converted try.
Wests Tigers coaching staff would have been alarmed a lot more when Manly scored an easy try 12 minutes later in what looked more like a training run than the real thing.
But just as things were looking grim for the home side, a spectacular try in the corner from Charlie Staines, and a brilliant conversion by Brendan Wakeham, closed the gap to 12-6 just before half time.
Manly went up 14-6 early in the second half when they kicked a penalty five minutes in.
Ten minutes later, and after sustained possession, hooker Api Koroisau fought his way to the tryline, scoring right next to the post.
The scoreline, 14-12 to Manly, brought the home fans into the game, with chants of Tigers, Tigers, Tigers echoing around Campbelltown Stadium.
The roar of the crowd went up another notch when Wests Tigers grabbed the lead for the first time after centre Starford To'a scored a four pointer.
Unfortunately, Wakeham dropped his bundle with the conversion and the Wests Tigers had to be content with a 16-14 lead, with 15 minutes to go.
They went toe to toe with Manly over the next seven minutes, but then the inevitable happened.
A converted try gave Manly the lead at 20-16, and then they kicked a penalty for a further two points to go six ahead at 22-16.
Wests Tigers tried hard but could not find an opening as Manly held on for a deserved victory.
It was an improved performance from Wests Tigers, and they will have be even better next round when they meet premiers Penrith still looking for that elusive first win of the season.