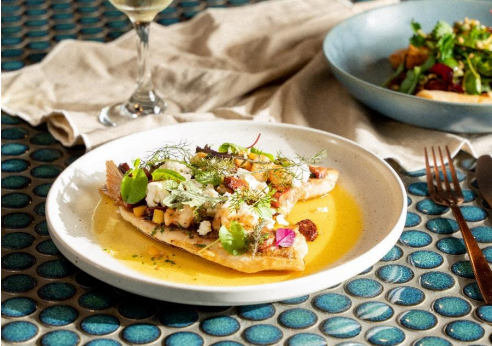 The days when clubs and pubs were the poor cousins of the culinary world are long gone.
These days some of our best chefs are running the kitchens of clubs like Wests Leagues at Leumeah.
Great ingredients combined with masterful preparation and cooking skills produce excellent food for members, their guests and visitors seven days a week.
The Wests Leagues dish for the NSW Perfect Plate competition, pictured, is a case in point.
Perfectly cooked butterflied gold ban snapper with prawns, sweet corn, olives, chorizo, feta and lemon beurre noisette is the sort of dish you'd expect to find in fine dining restaurants.
I had it last week and as someone who likes to have fish at least a couple of times a week I would certainly order it again and again if it stays on the menu.
It was tasty and nutritious at the same time.
Try it for yourself and I am sure you will agree it's a wonderful dish.
You can order it for lunch or dinner between now and June 19, the end of the Perfect Plate competition.
Wests Group Macarthur have entered three individual dishes from Leumeah, Lakeside and Country Club into the Perfect Plate competition.
They have been creatively designed by their talented chefs, overseen by head chef Luke Risby and group food and beverage manager Simon McNamara.
"Perfect Plate is a fantastic opportunity to celebrate and promote the work of our talented team in the kitchen,'' says Mr McNamara.
"We are always inspired by the passion and creativity the competition has created in the past and are thrilled to present three amazing dishes for our members and visitors to enjoy.''
If you plan to visit a Wests venue to try their Perfect Plate offering, remember that Service NSW Dine and Discover vouchers are still being accepted until June 30, 2022.
BELOW: Perfect Plate judge and legendary chef Colin Fassnigde popped in on Monday at Country Club Gledswood Hills and had lunch with the kitchen team and head chef Luke Risby.