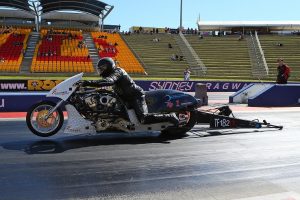 Chris Porter, a 51 year old Top Fuel Motorcycle racer from Kemps Creek, will be trying to save NSW's pride this weekend.
The current reigning champion is looking forward to taking on all comers but is wary of Queenslander Damian Muscat.
Especially with Queensland shooting for a clean sweep in the third rugby league State of Origin clash next Wednesday in Sydney.
The battle on two wheels between Muscat and Porter will resume as part of Hidden Valley Raceway's Nitro Up North event in Darwin starting today and finishing tomorrow (July 8-9).
"Queenslander, Queenslander, Queenslander!" Muscat chanted, when asked whether he felt there would be any State of Origin style rivalry between he and Porter this weekend.
Porter sees it a little differently.
"It has always been a bit like this (state against state) in the category, but more like a tri-state of origin with all the West Aussies," he said.
Porter races a 186 cube Nitro Harley and is supported on-track by his family, crew, Frasers Harley Davidson, Interfreight Transport and Duncan Foster Engineering.
[social_quote duplicate="no" align="default"]"With Chris Matheson in the past I am used to going up against the Queenslanders,'' Porter said.[/social_quote]
"With Muscat in the show now it just means I have another Queenslander to beat.
"Bring it on."
As well as state pride Porter also has the championship on his mind.
"It was good to get the number one back after some tough competition from Matheson and Mark Drew, and keeping that on the bike is always on all of our minds," he said.
"I am certainly looking forward to heading to Darwin.
"I was runner-up there last year and this year we will be going for the win and some personal bests, while looking to start our title defence."