More than 40 South West Sydney volunteers have been recognised for their tireless contribution to the community.
Federal Member for Werriwa, Anne Stanley, presented them with plaques and certificates at a ceremony earlier this month.
"Australians are known around the world for being such a warm, community minded people," Ms Stanley said.

"We are recognised as a country of volunteers and the people of Werriwa are the best example of this.
"Volunteering has been and always will be central to our community and is an indication of the love we have for where we live and the people that live in it.

"The time all volunteers donate to our community is invaluable.

"I want to congratulate all winners of the Werriwa Volunteer Awards, but I also want to recognise every single one of the volunteers in our community," Ms Stanley said.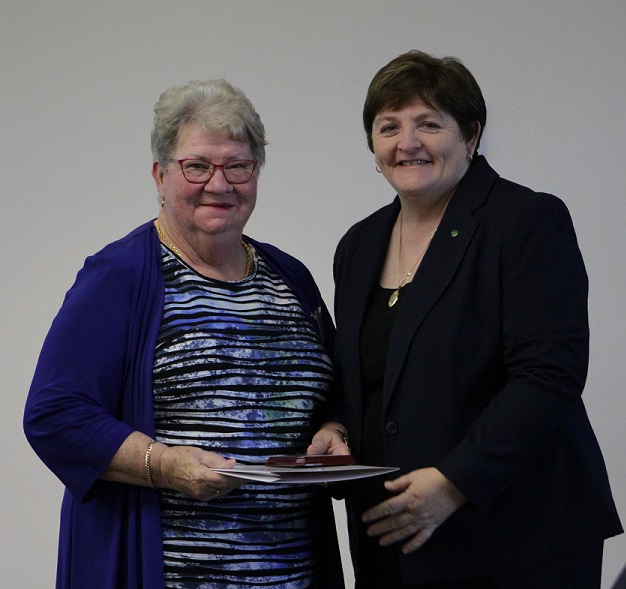 Volunteers recognised at the ceremony included Pauline James from NSW RSL Auxiliaries, Sarah Winders from Myrtle Cottage, Christy Nguy from Green Valley Public School, Sue Thorncraft from Holy Spirit Catholic Primary School and Wendy Luck from Hoxton Park Public School – Parents and Citizens Association.
Others were Jean Carter from Lurnea Public School, Ghenwa El Shami from Middleton Grange Public School, Ruth Hartcher-O'Brien from Miller Technology High, Kim Brooks from Moorebank/Liverpool District Hockey Club, Kevin Ingram from Mounties Group and John Gerardis from RSL Lifecare, Tobruk Village.
Also Beverley Croucher from Austral Bowling Club, Maria Grazia Storniolo from CNA Italian Australian Services and Welfare Inc and George Najarian from the Armenian Church Youth of Australia.
Others were Julianne Kirby from Good Samaritan Catholic College, Mary-Louise Slattery from Whiddon Easton Park, Amar Singh from Turbans 4 Australia Inc, Alex Reggio from Special Needs Ability Program Providers, and Diane Purse and Susan Reea from The Salvation Army.
Nine Autism Advisory and Support Service (AASS) volunteers were also recognised: Jenny Lam, Kathy Pritchard, Lisa Miles, Mari Al Gelani, Marise Caruna, Myrna Dominguez, Shannon Watson, Stephanie Cusack and Vicky Guilfoyle.
Six volunteers from the City of Liverpool Meals on Wheels were honoured by Ms Stanley: Carolyn Wilson, Dianne Young, Gloria Walsh, Grace Tennant, Peter Junghans and Stephen Wong.
The four recipients from Freeman Catholic College were Michelle Fimmano, Nancy Young, Sandra Karabatic and Zlatka Pondelak.
Olga Evans and Don Sharp from Uniting – Bernard Austin Lodge were also recognised, as were Pooja Sashi and Uma Rajesh from Viswa Hindu Parishad of Australia.
Nazim Khan, Lally Sabater, Dibita Shrestha and Craig McKenna from South West Community Transport were honoured, as were Saraswathi Sashi and Supriya Rajesh from Sewa Australia Inc.