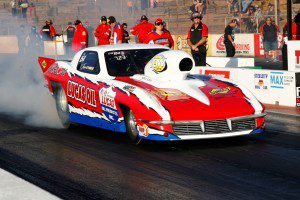 The 2015/2016 Summit Racing Equipment Sportsman Series came to a close on the weekend with the coronation of 10 champions, including two from Macarthur.
Before this season, Camden's  Jason Stares had never won an ANDRA Christmas Tree trophy.
Now he has two Silver Trees and two Gold Trees after sweeping the ANDRA Championship Grand Final and the Top Sportsman Championship.
It was a slogfest as first Jason Arbery in Round 1 and then Stuart McBain and Darren Saliba in Round 2 had their title hopes dashed.
That left Stares and Paul Russo to battle it out at Adelaide International Raceway, but Russo fell in the semi final – opening the door for Stares.
Stares raced to the Old Skool Speed Shop Top Sportsman Grand Final win on a solo when Matt Forbes wasn't able to compete.
The victory lap was a 7.233 elapsed time on a 7.23 dial in at 197.91 mph to top off the title-winning season.
"This is just unbelievable," Stares said.
"We tied the Championship up in the semis and we didn't think it could get any better and then we come out of the final with a Gold Christmas Tree, it's just out of control.
"There are a lot of people to thank. The sponsors that helped me chase it all this year. Lucas Oil Products, VPW, Proflow, Sunoco Race Fuels, anyone else I've forgotten I'm sorry.
"My crew, my family – special thank you to my sister who has travelled the country, my Uncle Bob, Aaron, my wife and kids who couldn't be here this weekend, it's just unbelievable," Stares said.
The other Macarthur participant to win a championship in Adelaide on the weekend was Darryl Stephen, who hails from Orangeville.
In Safe Site Traffic Solutions Super Gas, Darryl Stephen outlasted his title rivals to claim the Super Gas Championship for a second time and rubber stamp it with a final win for the weekend double.
Stephen drove past Richard Caval, defending champion Graeme Spencer, top qualifier Peter Datson and Jeff Romeo in the final.
Romeo red lighted by .097 seconds while Stephen clocked a 9.902 ET on the fixed 9.90 index at 144.89 mph.