The NSW Government has finally confirmed the final corridors which will support the delivery of the proposed Sydney Metro – Western Sydney Airport project, South West rail link extension and Western Sydney freight line.
Preserving vital corridors for three new transport links will pave the way for a significant boost to connectivity in the region, helping bring growth and jobs to Western Sydney.
The north south rail line corridor will support the delivery of both stage one and future stages of Sydney Metro – Western Sydney Airport and run from St Marys, with a tunnel to Orchard Hills, through to the new Western Sydney Airport, aerotropolis and Macarthur, with a tunnel from Oran Park.
The South West rail link extension corridor will run from the aerotropolis through Kelvin Park and Rossmore to join the suburban rail network at Leppington.
The Western Sydney freight line corridor will run from the future Outer Sydney Orbital at Luddenham through to the M7 at Horsley Park, where it will join a future section through Wetherill Park, which will link to the Southern Sydney freight line at Leightonfield, which connects to Port Botany.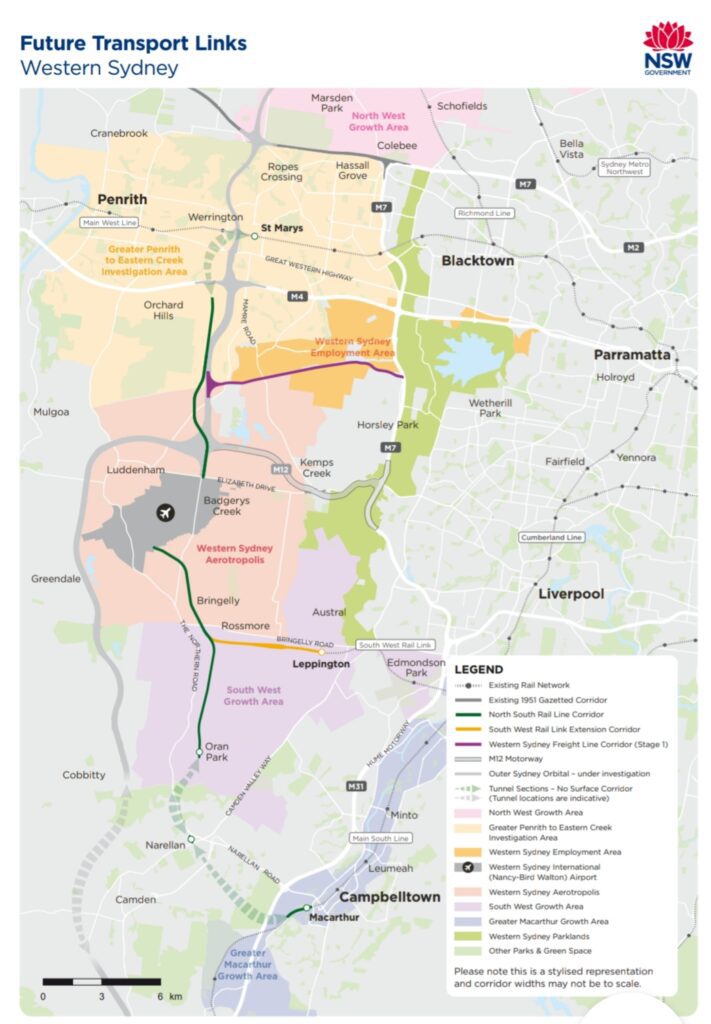 Transport Minister Andrew Constance says the alignments will bring certainty to the Western Sydney community and help drive investment around the new airport and the aerotropolis.
"Preserving these corridors for future passenger and freight transport links supports the development of the Western Parkland City, while planning for the needs of growing communities and industries to accommodate commuters, workers and businesses who all rely on different types of transport modes," Mr Constance said.
"Transport will play a huge role in shaping the way our communities move around in years to come, and we want to get this vision right, which is why we have spoken to the community at great length before finalising these future transport links."
Planning and Public Spaces Minister Rob Stokes said the finalised transport links will form the backbone of strategic development in the Western Parkland City.
"These future transport links will offer better connectivity for residents, and provide certainty to drive investment in new employment hubs near the new Western Sydney Airport and aerotropolis," Mr Stokes said.
All submissions received during community consultation were considered and adjustments were made to the final corridor alignments to minimise impacts to nearby residents.
Each of the corridors will provide different benefits, including connections to the new airport and aerotropolis, and support for future employments hubs, enhancing freight distribution across the emerging Western Parkland City, and freeing up capacity on other lines to allow for more passenger services.
Property owners have been notified and further details are being provided to them.